Yemen's Saleh Gives Farewell Speech, But Vows to Return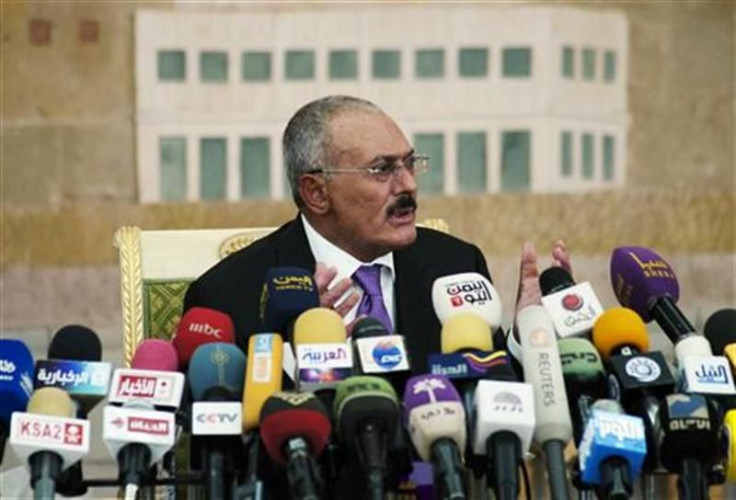 Yemen's President Ali Abdullah Saleh gave his farewell address on Monday, stepping down after 33 years in power in response to months of protests.
"I ask for pardon from all Yemeni men and women for any shortcoming that occurred during my 33-year rule and I ask forgiveness and offer my apologies to all Yemeni men and women," Saleh said in the televised speech. "Now we must concentrate on our martyrs and injured."
Saleh agreed to a Western-backed transfer-of-power deal late last year after more than 11 months of protests across the country, many of which turned deadly. As part of the agreement, Saleh and his cabinet will receive immunity from prosecution for all crimes committed under his rule. The controversial pact has sparked further demonstrations in Yemen, but has been met with approval from both the United Nations and the Arab League.
If there had been mistakes, then they were unintentional as the president has immunity from his own people to whom he had dedicated his life to serve for this nation, Saleh said.
The poor youths [who have continued] sit-ins for 11 months, go back to your homes and families and open up a new page with the new leadership. I feel sorry for you, the president added.
Although he's stepped down, Saleh still feels he can be a positive influence on Yemen going forward and still has one foot in the door. Last month, Saleh transferred his power to his vice president, Abd Rabbuh Mansur al-Hadi, who then immediately requested that Saleh stay on as an adviser to help guide the country through elections in February.
"God willing, I will leave for treatment in the United States and I will return to Sanaa as head of the General People's Congress party," Saleh said in his address, referring to the ruling party of Yemen, which he founded in 1982.
Coming to America
After his speech, Saleh boarded a jet and went to neighboring Oman, the stopping point on his way to the United States. On Sunday, the State Department granted Saleh a visa to travel the U.S. only for the purpose of receiving medical treatment.
"As we have indicated, the sole purpose of this travel is for medical treatment and we expect that he will stay for a limited time that corresponds to the duration of this treatment," State Department officials said in a statement.
Saleh was severely injured in June when militants fired a rocket-propelled grenade at his presidential compound in Sanaa. Four of his bodyguards and a spokesperson were killed and Saleh suffered from shrapnel wounds, a collapsed lung and burns over 40 percent of his body. He was taken to Saudi Arabia for treatment, where he stayed until September.
Saleh's trip to the U.S. is already a controversial one. On the one hand, it gets Saleh out of Yemen without any further delay and makes Washington look like it is making a humanitarian gesture. However, Saleh's own humanitarian record is hardly pristine. In just the past year, the president's security forces have been accused of murdering hundreds of unarmed protestors. Going further back, Saleh's rise to power was aided by his alleged penchant for execution, torture and forced disappearances.
With a new government currently looking much like the old, keeping Saleh happy could keep an important regional ally on America's side. However, if those who are still demonstrating against Saleh and against the current regime achieve their goal of overhauling the entire government, Washington's plan could backfire.
The United States and Yemen had an amicable relationship during Saleh's rule. While his tactics often oppressed minority groups, Saleh's strong hold on Yemeni society also limited the scope of al-Qaeda in country, and the U.S. was happy to support that effort monetarily.
Since Saleh agreed to step down, al-Qaeda has made significant military advances in the south of Yemen. Last week, the group sacked the city of Radaa, about 100 miles from the capital of Sanaa.
© Copyright IBTimes 2023. All rights reserved.