Youcef Nadarkhani Still in Danger: Ayatollah Khamenei to be his Final Judge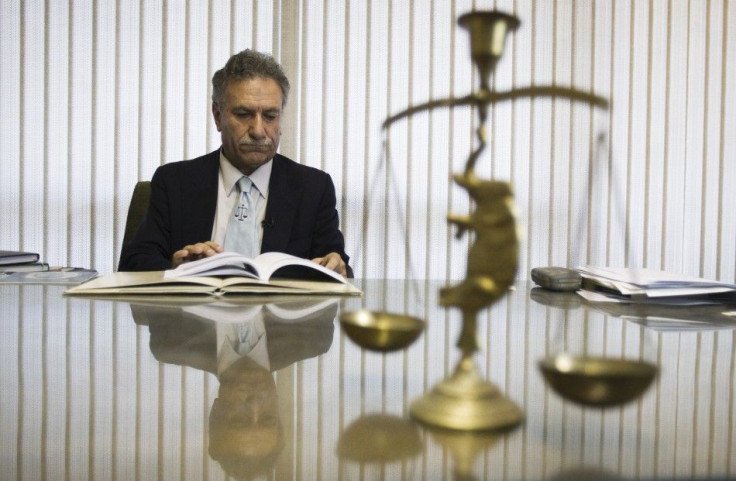 The fate of Youcef Nadarkhani, the Iranian pastor sentenced to death for refusing to convert to Islam, now belongs to Supreme Leader Ayatollah Ali Khamenei.
Nadarkhani was first arrested in 2009 and then sentenced to death in 2010, and the case has risen as high as Iran's supreme court. But, as international attention and pressure increases, Iran is turning to its highest religious and political authority. Ayatollah Khamenei could decide if Nadarkhani will be hanged according to Iranian law as early as Monday night.
Unlike in the United States, those on death row in Iran do not wait years for their execution. Nadarkhani could be killed immediately after Khamenei's decision.
After being convicted of apostasy -- the crime of abandoning a religion -- Iranian courts gave Pastor Nadarkhani five chances to repent. If he converted to Islam, authorities told Nadarkhani that he would be free. Nadarkhani refused all five times.
[Nadarkhani] was brought to court to repent for three days. He denied repentance on all three days, Nadarkhani's lawyer Mohammad Ali Dadkhah told the International Campaign for Human Rights.
The Judge kept asking my client to say, 'I have renounced Christianity and I recognize Islam as rescinder of all other regions,' and he kept saying 'I won't say that.'
Last week, Iran denied that Nadarkhani was ever convicted of apostasy, and claimed that he had been found guilty of rape, conspiracy and Zionism.
His crime is not, as some claim, converting others to Christianity, Gholomali Rezvani, the Gilan province deputy governor, told Fars news agency. He is guilty of security-related crimes.
The new rape report was the first time the Iranian government has mentioned any charge other than apostasy. Additionally, the little information from inside the Iranian court rooms that has surfaced indicates that Nadarkhani would be released if he chose to repent and convert to Islam.
As the case garners more attention abroad, the rape allegation is a signal that Nadarkhani has become, to put it bluntly, a public relations disaster for Iran.
We can be certain if the lies spread by Iran were true -- that Youcef was instead convicted of rape, extortion, and Zionism -- the court would not seek the advice of the Supreme Ayatollah, American Center for Law and Justice executive director Jordan Sekulow said Monday.
Apostasy is not officially part of Iran's legal code, but it is punishable under religious texts and the fatwas decreed by Ayatollah Khomeini. If Nadarkhani is executed for the crime, he will be the first person killed for apostasy in more than 20 years.
The reality is, as a Christian you don't have the rights of other Iranians. The actions and the basic policy toward evangelicals go against the rhetoric that they use for the country, David Yeghnazar, the U.S. director of Iranian church organization Elam Ministries, told the IBTimes.
Here we are in 2011 and we're talking about a man being killed for his beliefs. We need to ask Iran how they can be willing to break the charter they've signed and their constitution. The government must answer to the people, Yeghnazar said.
Support for Nadarkhani has grown exponentially around the world, and international leaders have spoken out against the arrest and potential execution.
"There are no religions that propagate violence, yet many commit violent acts in the name of religion," Archbishop Emeritus Desmond Tutu commented on Sunday, according to South Africa's IOL.
The White House, UK Foreign Secretary William Hague, the Bishop of Canterbury and the European Union all also issued harsh statements to Iran, and the American Center for Law and Justice has sent a letter to the United Nations on Nadarkhani's behalf.
"Pastor Youcef's conviction and death sentence are inconsistent with the Iranian Constitution and the nation's obligations under international law, the letter said, citing articles 13, 14, and 23 of the Iranian Constitution, which list Christianity as one of four protected religions. "[The conviction] has tremendous implications for all Christians and religious minorities in Iran, and is yet another indicator of the regime's disregard for basic human rights and freedoms."
Elsewhere in Iran, an actress named Marzieh Vafamehr was sentenced to 90 lashes and one year in prison for appearing in the film "My Tehran for Sale, which cast an unfavorable light on the Iranian government.
Ironically, "My Tehran for Sale is about an Iranian actress who is jailed and beaten for acting immodestly. The movie was shot in Tehran, but banned by the government. Leaked copies of "My Tehran for Sale have been passed around the country in defiance of the ban.
© Copyright IBTimes 2023. All rights reserved.