Yusaku Maezawa Net Worth: Billionaire To Fly 8 People To Moon For Free
KEY POINTS
Yusaku Maezawa founded Zozotown, Japan's largest online fashion retail website
He became SpaceX's first private customer in 2018
The billionaire said he will choose eight members of the public to join him on a trip around the moon in 2023
For people who dream of going to space, Japanese billionaire Yusaku Maezawa has got you covered. Here's how the online fashion retail magnate is covering an all-expense-paid, week-long trip around the moon and back.
Maezawa, 45, currently has a net worth of $2 billion, Forbes reported. His fortune comes from founding Zozotown, Japan's largest online fashion retail website. However, he has since sold most of his stake in publicly-listed Zozo, the parent company of Zozotown, to Yahoo Japan for more than $2.3 billion.
The Chiba, Japan native is no ordinary entrepreneur. He is known for having ideas that appeared crazy when he started them but have since become the norm for the 21st century. He started a CD and record mail-order company in 1995, according to Business Insider. He then launched Japanese e-commerce giant Start Today in 1998 and Zozotown in 2004, per Forbes.
His company later launched ZOZO, an affordable bespoke clothing brand that comes with a free bodysuit covered with sensors to measure exact body size. The venture did not end well, per The Wall Street Journal, as Japanese consumers were only buying casual clothing from the brand.
Selling his stake in Zozo led Maezawa to re-embrace his love of art. The founder of Contemporary Art Foundation owns several important pieces. In May 2017, he paid $110.5 million for a Jean-Michel Basquiat painting, The New York Times reported. At the time it was sold, the 1982 painting of a skull garnered the highest auction price for a work of art by an American artist.
Maezawa also owns paintings by contemporary artists Jeff Koons, Adrian Ghenie and Christopher Wool. He plans to build his own museum to house his collection in his hometown of Chiba, per Forbes.
In 2018, Maezawa made headlines internationally when he became the first private customer of Elon Musk's SpaceX. While the amount he paid was undisclosed, Business Insider said the billionaire is paying for the ship and its booster.
On Tuesday, he announced through his YouTube channel that he is sponsoring a private trip around the moon aboard SpaceX's Starship rocket in 2023 for a crew that will comprise 10 to 12 people in all, including himself.
Eight of the participants will be chosen from the public. Maezawa laid down two requirements for his future crewmates — that space travel will advance the person's advocacy and that the chosen one will be ready to support the causes of the other participants.
Pre-registration for the "dearMoon" project is open until March 14 on its website. An "initial screening" process is set to start March 21, with a "final interview and medical checkup" scheduled for late May.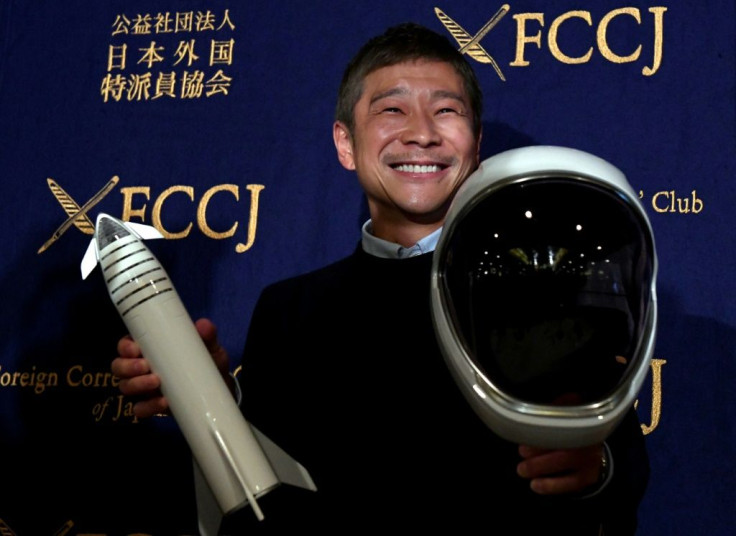 © Copyright IBTimes 2023. All rights reserved.