Zipmark launches Developer Program, API for Easier Electronic Checking Payments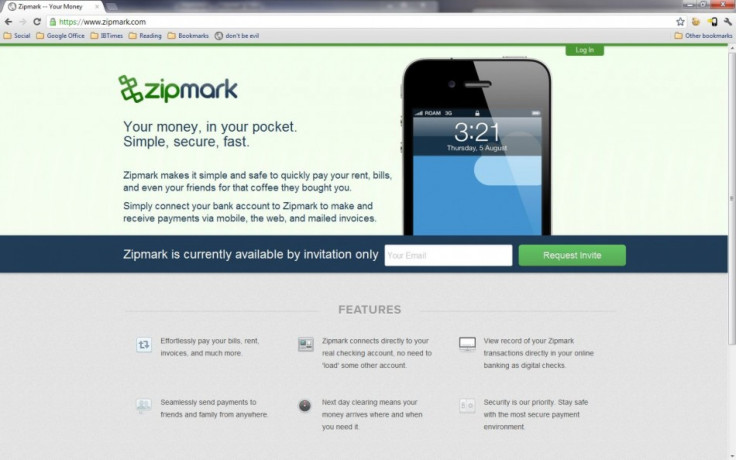 Zipmark, one of our 2012 Top Tech Companies to Watch in Silicon Alley, has launched a developer program that will allow five partners to electronically process checks by using the Zipmark Biller API. The service is similar to those that are offered by large banks, except Zipmark reduces any risks in surcharges, overdrafts or other hidden fees.
The service has been described as a pro-biller, pro-merchant alternative to traditional electronics checking systems by Citigroup alumnus and CEO of Zipmark Jay Bhattacharya.
Sunshine Suites (the largest co-working space provider in New York City), Singular Payments (a bill payments solutions company), UnitConnect (a property management software company), InvoiceASAP (a mobile invoicing provider) and Eastmedia (a commerce app developer) are partners in the Zipmark developer program. Each has been given access to the Zipmark Biller API, something that will allow the merchant to implement Zipmark's low-cost alternative to credit and debit cards.
Because Zipmark operates on a check-processing infrastructure, it's able to reduce traditional costs associated with transactions completed on mobile phones and over the internet. The company always charges one percent for each transaction, and that charge is capped at $5.00. The platform is fundamentally different than services such as PayPal because it operates around the Check 21 Act, which was an act that allowed banks to handle checks electronically in order to make processing faster and more efficient.
Zipmark operates from standard bank accounts; users don't have to create an entirely new account as they're required to do with Paypal. Bhattacharya said that the main difference between the company and its competitors is the way [Zipmark] structured the API and the biller program around [the Check 21 Act].
In real estate, for example, a surprising number is still made with paper checks, said Bhattacharya. We saw that as a natural fit [for our service].
The company launched a pilot program with Sunshine Suites, and Bhattacharya says that the pilot was a huge success. Zipmark was able to capture a large number of the payments made to Sunshine Suites and he notes that many users of the platform were impressed by its ease-of-use.
The company received $2 million in seed funding late last year and has been described as a digital checkbook allowing people to send money electronically to other buyers and merchants. The seed money was raised from Village Ventures and Contour Venture Partners with participation from NYC Seed, High Peaks Venture Capital and the New York city Investment Fund according to a GigaOm report.
Zipmark plans to release an accompanying iPhone app for the service in early March. The application will open up the possibility of mobile payment options including tying payments to QR Codes.
Bhattacharya explained that payments--such as a person's rent--could be tied to a QR Code and that a renter would be able to scan that code on their phone in order to make a payment. The company will likely have the iPhone app ready before the SXSW Festival, which start on March 9.
For now, the platform is invite-only.
This is a crucial milestone for the company, said Bhattacharya. We want to approach the market in order to analyze the [feedback] that we're getting. The invitation process is very quick. He said that although the platform is only available through invitations, the waiting time for developers is fairly short. Interested developers can visit the Zipmark website for more information.
© Copyright IBTimes 2023. All rights reserved.
FOLLOW MORE IBT NEWS ON THE BELOW CHANNELS