2020 iPad Pro vs. 2018 Model: Comparison Of Specs, Features And More
KEY POINTS
Apple has just announced a new iPad Pro model
The 2020 iPad Pro features a better processor, more cameras and microphones
A new Magic Keyboard with trackpad was released alongside the new Apple tablet
Cupertino tech giant Apple has finally announced that it is releasing the new 2020 iPad Pro models – a welcome refresh of the 2018 model. The company has improved some of its features and introduces new ones that power users will like. Here's a quick look at it.
Similar specs
The 2020 iPad Pros feature many similarities with the 2018 iPad Pro models. In order for fans to appreciate the improvements that Apple did with the new models, it will be good to take a look at the similarities first. Here they are, as per iPhoneHacks:
The two iPad Pro generations feature the same look and size. The 11-inch models measure exactly the same (247.6 x 178.5 x 5.9mm), but the 2020 models weigh about 3-5 grams heavier compared to the 2018 models.
The 12.9-inch models also look the same way and have the same measurements (280.6 x 214.9 x 5.9mm). Interestingly, the 2020 models are lighter compared to the 2018 models by about 10-12 grams.
The 2020 and 2018 iPad Pro models have enough battery life to last up to 10 hours of internet browsing using Wi-Fi.
Both generations use Face ID for user authentication. The new models don't have Touch ID.
New features
The 2020 iPad Pro models possess the best features of the 2018 iPad Pro, but adds a few new features that fans will like. Here they are:
The 2020 iPad Pros now use the A12Z Bionic chip, which is faster than the A12X on the older models. Apple claims that this is "faster and more powerful than most Windows PC laptops."
Apple equipped the 2020 iPad Pro models with an additional Ultra Wide camera, which is useful for taking wide landscape shots. The new camera setup also supports 4K video capture at 60fps, as well as slow-motion video capture at 240fps.
LiDAR Scanner
The 2020 iPad Pro also features a LiDAR scanner that gives it "cutting-edge depth-sensing capabilities." With it, the iPad Pro will be able to accurately measure objects and distances up to five meters away.
Apple added more microphones to the 2020 iPad Pro. It now features five "studio-quality" microphones to capture clen audio.
Along with the new iPad Pro, Apple also released an updated Smart Keyboard folio and a new Magic Keyboard with trackpad. These accessories, along with the second-gen Apple Pencil, make the 2020 iPad Pro the creative's tool of choice.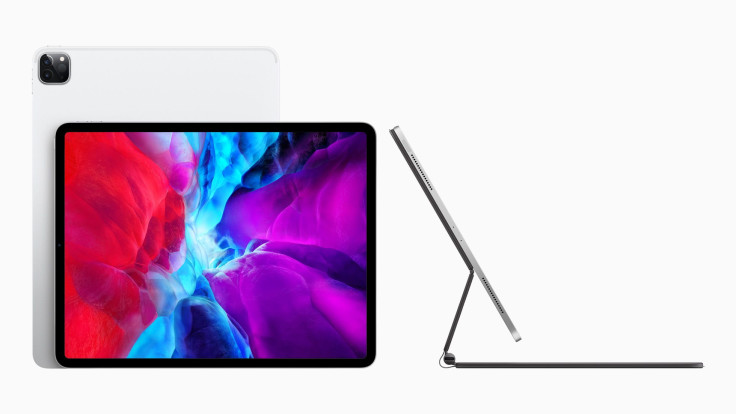 © Copyright IBTimes 2023. All rights reserved.