29-Story Video Game: Drexel Scientist Frank Lee Creates Giant 'Pong' Game At Philadelphia's Cira Centre [VIDEO]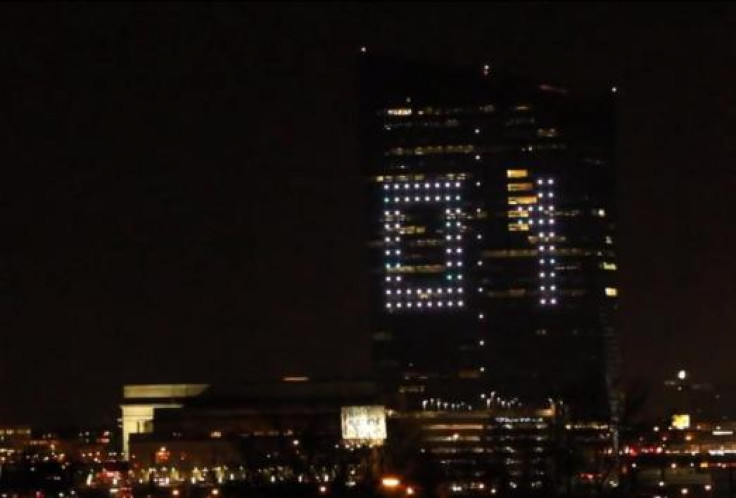 A scientist at Drexel University has turned Philadelphia's Cira Centre into a giant game of Pong.
Known for its impressive LED lighting, the Cira Centre has displayed everything from the Philadelphia Phillies logo to a pink breast cancer awareness ribbon. Now, Drexel scientist Frank Lee has turned the 437-foot office building into a 29-story video game.
Lee, the director of Drexel University's game development program, has spent the last five years developing his vision for the "Grandest Game of Pong on the Planet," UPI reports. Lee's game kicked off Philly Tech Week on Friday, and will return for another display on Wednesday.
A group of players, randomly selected by a lottery, gathered on the steps of the south terrace of the Philadelphia Museum of Art, where they had a clear view of the "screen" on Cira's north face, The Philadelphia Inquirer reports.
Lee originally wished to develop an enormous game of Tetris before settling on a game that would be a bit easier for Cira's low-resolution display to manage. Besides, Lee refers to Pong as an example of "the pure primal elegance of game play and competition."
"The feedback I got was: 'Pong is kind of old. Why would people care?' That floored me," Lee told the Inquirer. "Pong is like a cultural icon. It was the first commercially successful video game -- the game that launched an industry."
However, if Lee gets his way, the 29-story game of Pong will only be the beginning. Lee plans to develop a game that 60,000 Philadelphia Eagles fans will be able to play at Lincoln Financial Field, and another based on "Invasion of the Body Snatchers" that would include the entire city.
You can watch a video of the Lee's 29-story Cira Centre Pong game below:
© Copyright IBTimes 2023. All rights reserved.