3 Challenges Michelle Bachelet Will Face As The New President Of Chile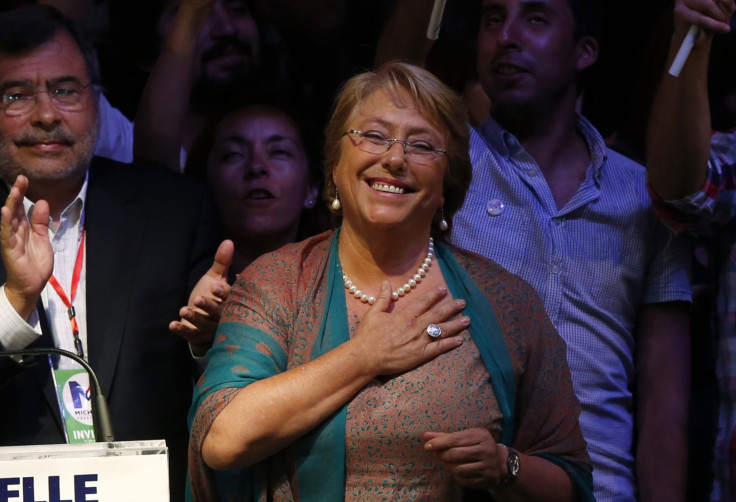 The once and future president of Chile, Michelle Bachelet, has made history as her landslide victory was the biggest in eight decades. The Socialist leader won 62 percent of the vote over her opponent, conservative Evelyn Matthei, whose 37 percent was the worst performance by the right-wing forces in two decades.
Bachelet, who will take office for her second nonconsecutive term on March 11, inherits a divided country from current President Sebastián Piñera. (She also preceded him as president from 2006 to 2010.) Chile's fast-growing economy, stable currency and low unemployment (5.82 percent as of October 2013) are the envy of Latin America, but the country has seen its share of social upheaval, centering demands for better education options and protests against inequality.
"The social and political conditions are here and at last the moment has arrived," Bachelet said in her victory speech after Sunday's runoff election. "If I'm here it's because we believe that a Chile for everyone is necessary. It won't be easy, but when has it been easy to change the world?"
Here are three of the main points in Bachelet's political agenda.
Universal Education
Chile's economy is still one of the most privatized in the world, a legacy that comes straight from Gen. Augusto Pinochet's 1973-1990 dictatorship. This includes "public" transportation, health care and education.
Students have been protesting the lack of affordable education in Chile since 2006, when they first made their voices heard demanding reform of the educational system. In Chile, only 36 percent of the schools are state-funded, and even public schools cost thousands of dollars a year. Such a system allows for only 65 percent of Chileans to finish school before they turn 24, according to data cited by Argentine newspaper Página 12.
Protests turned violent during the primaries in June, when the Socialists named Bachelet their candidate for the presidency again. Bachelet, whose family fought against the Pinochet regime, promised to make affordable education for all a top priority for her administration.
Tax Reform
In order to fund such changes, Bachelet outlined a tax plan that is supposed to build from the one Piñera established last year, as well as overcoming the fiscal deficit (around 1 percent) his administration will leave behind.
The revision includes multiplying the corporate income tax rate from 5 and 25 percent, a move that according to Chilean analyst Luis Felipe Lagos could net the government $9 billion to 13 billion. So sharp an increase will affect salaries, savings and productivity -- and, as Lagos pointed out, many specifics need to be fleshed out.
"The big transformations awaited by Chile, like education and pensions, need a financial compromise," said Bachelet.
Peru, The Hague And The Sea Limits
As neighbors and onetime enemies in war, Peru and Chile have a long history of political and economic love/hate. The latest spat has brought both countries to the International Criminal Court in the Hague over maritime claims.
Chile maintains that there is nothing to clarify, as the limits between their sea territories were set in 1954, through a treaty signed by Chile, Peru and Ecuador that gives each country 200 miles off their shores. Peru argues that such treaties are fishing agreements, not territorial boundaries, and that due to new international laws, particularly the 1982 United Nations Convention on the Law of the Sea, the treaties need revision. In the face of Chile's refusal to review the treaties, Peru started an official process in the ICC in 2008, asking the Hague to redraw the limits according to international law.
Bachelet did not speak about the issue during her campaign, but her communications officer, Álvaro Elizalde, assured that she would accept the resolution and work with Peru to ensure its application. "We need to go into this issue as one," said Elizalde.
The ICC will issue a decision on Jan. 27.
© Copyright IBTimes 2023. All rights reserved.