400-Year-Old Skeleton Found in Backyard, Canadian Couple Charged $5,000 For Unearthing It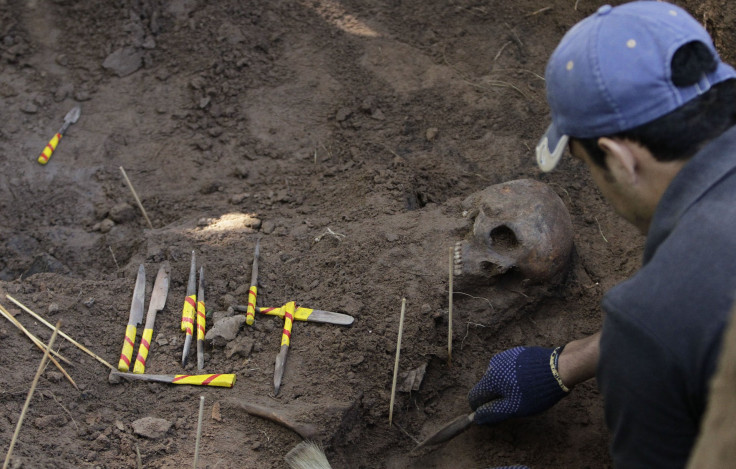 Finders keepers was not the case for one Canadian couple who recently discovered a 400-year-old skeleton in their backyard and were not only told they couldn't keep their find but also charged $5,000 for unearthing it.
Ken Campbell and Nicole Sauve, of Sarnia, Ontario, said a recent fence installation led them to discover what is being labeled a historical find. Sauve, who said the duo originally believed the skeleton to be from bones of an animal, called the Ontario Provincial Police to investigate. Forensic anthropologist Michael Spence confirmed the bones were that of an aboriginal woman, reported the Toronto Star.
Upon evaluation, Spence reportedly claimed the remains are likely that of a female who died at age 24 sometime between the late 1500s and the early 1600s. The skeleton, located near Blue Water Bridge, once a part of the Ojibwa trade network, has experts theorizing she was a member of the merchants, a hunting, gathering and fishing society.
In spite of reporting their find and Spence's evaluation, Sauve and Campbell were told they were required to hire an archeologist to assess their property at their own expense under Ontario's Funeral, Burial and Cremation Services Act. The act, which requires evaluation for all properties found to house human remains, has the Canadian couple stuck with a $5,000 expense. "I did the right thing by her and this is what's happening," said Sauve.
According to the report, the couple is currently appealing the cost with the mayor of Sarnia. Allegedly, the Aamjiwnaang First Nation Health and Environment Committee, a group that aims to save their native land, is raising funds to help cover the costs. Bob Bailey, member of Provincial Parliament for Sarnia-Lambton, said the couple has the option to file a request for the Registrar of Cemeteries to handle the unearthing if the cost would be considered an "undue financial burden," a move that would result in the registrar reimbursing the couple in full.
Sauve said after discovering the remains were that of a human, she had planned to keep the historical find, even naming the deceased individual "Sephira" after her granddaughter. The couple decided to relinquish the remains after they were informed that if they kept them, their property deed would be reissued to state there was a cemetery on the premises.
The remains are currently at a Aamjiwnaang First Nation cemetery.
© Copyright IBTimes 2023. All rights reserved.