5 Best Free Apps To Reach New Year's Resolutions: Lose Weight, Increase Happiness And More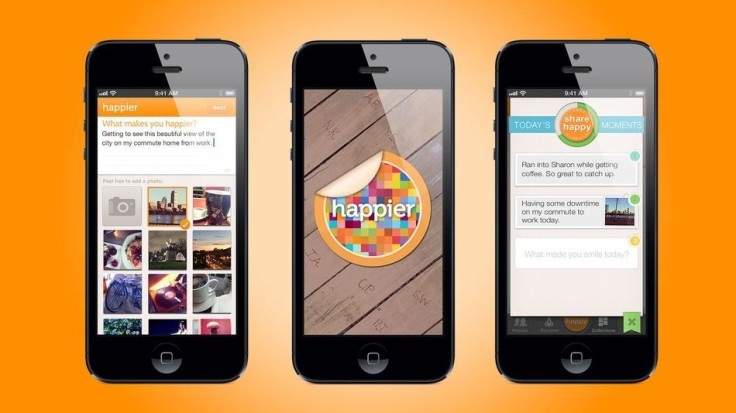 We're barely into 2015, but many have undoubtedly compiled a list of resolutions that they hope to stick to this year – maybe lose a few pounds, snag a few more hours of sleep or eat a healthier diet. Though some of these may require some good old-fashioned willpower and planning, technology has made some of these tasks significantly easier, and there are a ton of apps that can help people reach their goals in no time. Check out our list below of the best apps to help reach and stick to New Year's resolutions.
5. Pact
Like a personal trainer, Pact will make sure you don't skip your daily workouts. Users commit to exercising a certain number of times per week, and if they miss a day money will be subtracted from their credit card or Paypal accounts. Payouts are small, but consistent gym-goers can expect to earn a little extra cash if they don't skip. Users can also participate in challenges that encourage them to eat more vegetables or keep a food diary, two factors that scientists believe contribute to lasting weight loss.
4. Mint
Those who hope to get their finances on track should download Mint. The personal finance app allows users to place all of their bank accounts, credit card information and student loan data in one place. Users can track where they spend most of their hard-earned cash, and the app will also allow them to set budgets on different categories of spending – clothing, dining out, groceries, etc. Mint will alert has alters if users go over their spending limit. It will also help identify patterns in spending, as well as help users discover what their financial priorities are.
3. Sleepbot
Don't want to purchase an expensive sleep tracker? Sleepbot is a free app for Android and Apple smartphones that monitors sleep patterns – a virtual sleep journal. Sleepbot even has sound and motion recording that allows users to fully understand what wakes them up at 3 a.m. or why they toss and turn. Forgetful? The app will remind users to set it to sleep mode before they turn in for the night.
Not sure how those 12 pounds crept on last year? Studies show that dieters who keep careful record of what they eat are much more likely to lose weight. MyFitnessPal has a wealth of nutritional data for thousands of fresh and packaged foods, including counts for carbohydrates, fat, calories, sugar and protein. If users can't find a food in the database, they can always add it, along with custom meal plans they often eat. MyFitnessPal can also be linked to a number of other apps and is compatible with fitness bands like the Jawbone UP24.
1.Happier
Who couldn't do with a little more happiness in their lives? The Happier app is bright and cheery, from its festive orange color to its positive subject matter. The app is highly social – users subscribe and can submit their moments of happiness and gratitude for others to read. Happier also has online courses that users can take to learn a number of useful skills – from how to stress less to basic yoga moves.
© Copyright IBTimes 2023. All rights reserved.