5 Best Hot Alcoholic Drinks For Winter [Cocktail Recipes]
The key to any Christmas party is a good cocktail, but it's a little too cold for a frozen margarita. Warm up with some hot drinks at the holiday celebration. Not sure what to serve? Here are five recipes for some delicious (and easy to make) hot, alcoholic drinks:
The Perfect Hot Buttered Rum — Hot buttered rum has been a drink of choice since colonial times, and that might be because it's so easy to make. Heat up 1 cup of hot water, add 2 tablespoons of Collins Hot Buttered Rum Mix and 1.5 ounces of your favorite spiced rum.
Spiced Apple Cider Mule — Who doesn't love a little spiked apple cider around the holidays? This recipe calls for 2 ounces of Tito's Handmade Vodka and 4 oz. spiced apple cider. Warm it up before serving in a copper mug and garnish with a cinnamon stick.
Belvedere Toddy — To make this vodka-based toddy, start with 1.5 ounces of hot water and a half-ounce of honey in a glass mug. Wait for honey to melt. Then add 1 ounce of Belevedere Vodka, 1 ounce of fresh lemon juice and 1 ounce of fortified French wine. Garnish with nutmeg, cinnamon stick, orange wedge and/or clove.
Holiday Mulled Wine — This is the best hot drink recipe if you invited the whole neighborhood to your holiday party. The easiest way to do this is to heat up a 1-gallon bottle of red wine with 16 ounces of Yes Cocktail Co Orange Clove mixer. Heat to 160 degrees Fahrenheit and serve warm.
Orange Black Tea Toddy — Don't get nervous. The ingredient list is a little longer than usual, but this hot toddy couldn't be easier to make. Simply add all of these ingredients to a stovetop pan: 1.5 ounces of Chivas Regal 18 year Scotch, 5 ounces of water, 2 dashes Angostura Bitters, 6 cloves, 1 orange wheel, 1 lemon wheel, 1 black tea bag, a half-ounce of honey. Bring to a boil and strain. Serve in a glass mug and garnish with an orange wedge.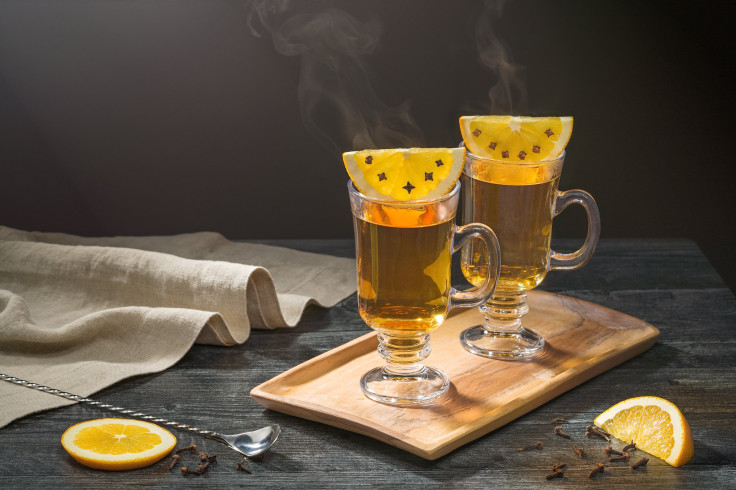 © Copyright IBTimes 2023. All rights reserved.