5 Questions About Frontier Airlines' New 'Ultra-Low-Cost' Model Answered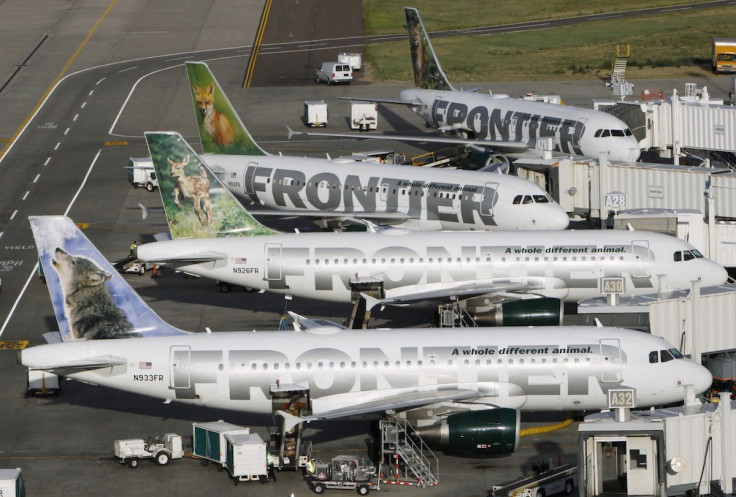 Frontier Airlines made the rather unsurprising announcement on Monday that it would shift from being a low-cost carrier like Southwest Airlines Co. (NYSE:LUV) to an "ultra-low-cost" carrier a la Spirit Airlines Inc. (NASDAQ:SAVE), the most-profitable and fastest-growing airline in the United States. Though analysts have predicted the move for some time, it left many of the Denver-based airlines' 8.4 million annual passengers unsure of what to expect when booking their next trip. To clear up some of the confusion, here's a look at five questions and answers that explore how an unbundled fare structure with ancillary fees will shake up things.
What fare options will Frontier Airlines offer and when?
Frontier Airlines will "simplify" its fare structure by offering just two types of fare options, Economy and Classic Plus, effective for all tickets purchased on or after April 28. The Classic Plus fare includes a fully refundable ticket, no change fees, extra legroom, one free checked bag and one free carry-on bag. The Economy fare is completely unbundled, meaning it covers the cost of the seat and little else.
Frontier said that the Ascent and Summit tier level members of its EarlyReturns loyalty program will still receive a free carry-on bag, two free checked bags and seating with additional legroom atr no added charge. The carrier also introduced a new travel savings club, Frontier's Discount Den, where members receive $5 in savings on Frontier's lowest carry-on and first checked bag prices, as well as special deals via email. Customers must be an EarlyReturns member to enroll.
Will the flights be cheaper?
Frontier claims it has reduced the lowest Economy fares by an average of 12 percent on every nonstop route, but at the same time, it has increased ancillary fees for products that were once complementary.
If you ask Frontier's CEO, David Siegel, unbundled airfares are the way of the future, allowing customers to save money by individually selecting their services. "With an unbundled product, customers can save even more by choosing to pay for only the products that they want, allowing them to customize their flight experience for each and every flight," he said in an email to customers on Monday.
Anyone who's purchased a ticket on Allegiant Air or Spirit Airlines may beg to differ on the degree of savings. Though Frontier's base fares will likely undercut the competition, a litany of fees for everything from seat selection to space in the overhead bin could make prices on par with the legacy carriers, requiring an extra degree of detective work when booking a flight.
How do unbundled airfares and ancillary fees work?
In 2000, base ticket prices accounted for about 84 percent of revenue for major airlines. Now, they account for just 70 percent, with the 15 largest U.S. airlines raking in $3.5 billion in baggage fees and $2.6 billion in ticket-change fees in 2012 alone (the last year for which there is full-year data). IdeaWorksCompany, a company based in Shorewood, Wis., that tracks airline profits, predicted that airline ancillary revenue worldwide would reach a staggering $42.6 billion in 2013.
"Ancillary fees" is essentially an industry term for a la carte pricing that's rapidly gained currency among airlines across the globe. IdeaWorksCompany said ancillary revenue "is generated by additional activities that yield revenue for airlines beyond the core movement of customers from A to B. This wide range of activities includes: commissions gained from hotel bookings, the sale of frequent flier miles to partners and the provision of a la carte services -- providing more options for consumers and more profit for airlines."
Some airlines such as Spirit make more than one-third of their revenue from ancillary fees. Even legacy carriers such as United Airlines, Delta Air Lines Inc. (NYSE:DAL) and American Airlines (NASDAQ:AAL) derive billions of dollars each year from add-ons. Frontier, meanwhile, has yet to crack IdeaWorksCompany's list of the top 10 U.S. ancillary revenue-earners, though that's about to change.
Jay Sorensen, president of IdeaWorksCompany, said in a report on ancillary fees last year that it's best not to look at the trend as a negative. "These are good things because not everyone checks a bag and the quality of bag and food service improves when an airline treats it as a profit center, instead of a gift," he noted, adding: "Consumers will only pay for items that provide good value for money paid."
What do Frontier Airlines' new ancillary fees look like?
For those who book Frontier's Economy fare tickets, the fees are hefty and plentiful. Each carry-on bag will set you back $25 if declared upon reservation or Web check-in, $35 if declared at the airport kiosk and $50 if you wait until the gate. While personal items fitting under the seat remain free, the first checked bag will cost between $20 and $25, depending on if you declare it online or at the airport, and the second checked bag will cost $30, regardless. If you want to sit next to your child on the plane, that will cost you $3 at booking or $8 at check-in. It will also cost $5 to print out a paper receipt and $10 to make a reservation over the phone.
In-flight soft drinks and bottled water will remain at $2, while snacks start at $3 apiece. The airline will also continue to offer microbrews like Fat Tire ($6) and Dale's Pale Ale ($7) from its home state of Colorado, as well as DirecTV entertainment ranging from $4 to $8, depending on the length of the flight.
Frontier has a history of rewarding customers who book directly on its website, rather than on global distribution systems, and it claims that FlyFrontier.com will always offer the lowest prices for seat assignments and carry-on bags at the time of booking. It's also the only website where "stretch" and "select" seating options are available.
Is Frontier Airlines becoming the next Spirit Airlines?
The reality is that Frontier began transforming itself into an ultra-low-cost carrier like Spirit Airlines more than a year ago. Last August, for example, it began charging travelers who purchased certain fares through travel agencies or third-party websites a fee to bring luggage aboard its planes. It also began charging passengers on its least expensive fares for nonalcoholic beverages, which were previously free.
This early shift took place against the backdrop of a change in ownership. Indigo Partners purchased Frontier from Republic Airways Holdings Inc. in December for $36 million, accepting $109 million in debt. If Indigo sounds familiar, that's because the private-equity firm based in Phoenix helped finance Spirit and turn it into the highly profitable, fee-heavy industry-disrupter that it is today.
Just last week, Frontier announced that it had appointed a new president, Barry L. Biffle, to take over on July 16. Biffle just so happens to be a former executive vice president at Spirit and chief executive at VivaColombia, the first ultra-low-cost carrier in South America.
Ultra-low-cost carriers in Europe such as Ryanair, easyJet, Norwegian Air Shuttle and Pegasus Airlines now make up roughly 30 percent of the European market. Many analysts expect the U.S. market to pivot in this direction, too, and Frontier's move is a clear shift in that direction.
FOR FREE to continue reading
✔️ Unlock the full content of International Business Times UK for free
offer available for a limited time only
✔️ Easily manage your Newsletters subscriptions and save your favourite articles
✔️ No payment method required
Already have an account?
Log in
© Copyright IBTimes 2023. All rights reserved.