About Those High Beef Prices: Remember Last Year's Drought In Texas?
Cattle inventory was at record lows entering 2012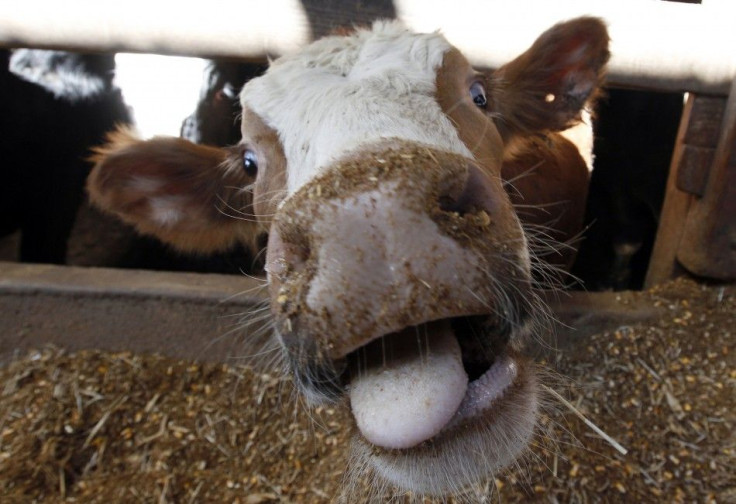 Your burger won't get cheaper any time soon, and it's not just because of the current Midwest drought. (You'll feel that next year.)
One reason has to do with the price of raising beef cattle. The U.S. Department of Agriculture's twice-yearly Cattle Inventory Report will be released Friday, and it is expected to reflect one reason high prices for beef will continue: this year's crop-killing U.S. drought that will drive up cattle feed prices. The more money it takes to feed the beef, the more money it will take to buy it.
But that isn't why the national average price for a pound of beef is already at a record $4.71; the reason for that goes back to last year's stifling heat wave and drought that hit the country's ranching states.
As a result of last year's drought, the USDA's January Cattle Inventory Report showed the number at its lowest in more than 60 years. The report also said the inventory of calves that represent cattle that will head to slaughter in the first half of 2013 was also down to half-century lows.
Something similar happened last year around this time, when many ranchers were scrapping their mid-summer grazing periods and sending their cattle to the nation's feedlots sooner than they would have preferred.
On Friday, the USDA will also release its July report on so-called feedlot placements. That's a report on the number of cattle that have been moved from grazing to lots in preparation for slaughter. These cattle typically stay at the lots for three months, fattened up with corn-based feed before being sent down the chute.
Analysts polled by Reuters forecast a 1.4-percent decline in the number of cattle sent to feedlots in June, following a 2 percent increase in May when 2.09 million heads of cattle were placed. May's figure represents a 15-percent increase from the year before.
Last year Southern Plains ranchers rushed cattle to market prior to May 2011 due to impending drought conditions that ravaged Oklahoma, Kansas, Texas and other states. By May of last year, a higher-than-usual number of cattle were already delivered to the lots.
A similar phenomenon happened this year as ranchers sent younger (and fewer) cattle to lots because the summertime grazing period where the cattle tend to bulk up for slaughter was wiped out by the lack of precipitation that killed grazing pastures. The United States Department of Agriculture's Farm Service Agency has been opening up lands that have been left fallow under the Conservation Reserve Program to emergency grazing and haying; the measure allows ranchers to graze their stock on land typically held in reserve to allow regrowth to avert soil erosion.
All of this means that we're seeing a second consecutive cattle-affecting drought, which means the price of beef is going to be contingent on how demand responds to supply. So unless the economy takes a serious turn for the worse, or vegetarianism suddenly becomes a national trend, your burger isn't getting any cheaper.
Meanwhile, in Japan
Cattle futures were rising Thursday after rallying a day earlier on reports Japan is considering lifting beef-import curbs. The country's Food Safety Commission is scheduled to meet Tuesday to discuss the matter, according to Bloomberg News. Currently, the U.S. can only export meat from cattle that are 20 months old or younger after Japan partially lifted a full ban in 2006 linked to the discovery of the first case of mad cow disease in the U.S. in December 2003.
The price for feeder cattle on the Chicago Mercantile Exchange for August delivery was up Thursday afternoon 1.3 percent to $1.39 a pound while live cattle for October was up 1.2 percent to $1.24 a pound.
© Copyright IBTimes 2023. All rights reserved.