Acer Sees Q4 Sales Dip, Lifts Prices on Thai Floods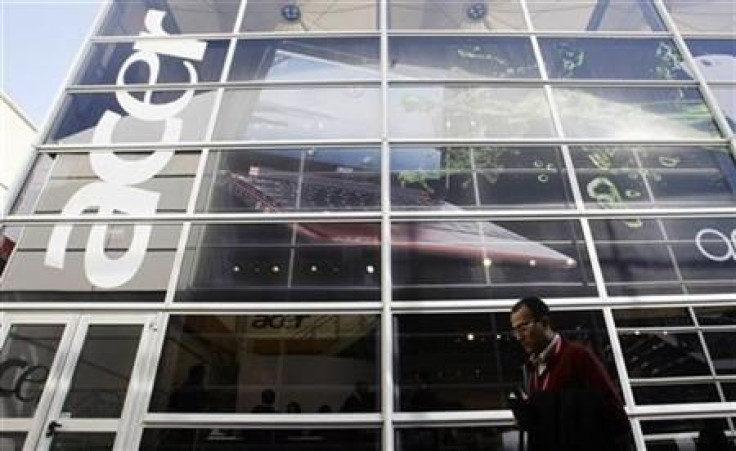 Taiwan's Acer Inc expects fourth quarter sales to fall as much as 10 percent from the previous three months and will raise prices as flooding in Thailand disrupts supplies of hard disk drives for PCs.
The company told an investor conference on Friday that it hopes to see some improvement in the supply of hard disks in the first quarter of next year, but added that with prices for disks rising up to 20 percent, it needs to take action.
We have seen a hard disk price rise so we have started to raise prices on future orders to cope with the rising cost, said President Jim Wong, adding that the company is talking to suppliers daily to stay on top of the inventory and supply situation while trying to find resources outside Thailand.
Its offices in Thailand, which are mainly sales operations, are currently working normally, he said.
Thailand is the No. 2 maker of hard disk drives (HDD) after China and accounts for about half of global output. The country's worst flooding in half a century has forced the closure of seven industrial estates, disrupting supplies of electronic components and car parts.
Acer said it maintains its tablet shipment target for the year at 2 million-2.5 million units, and sees shipments about the same level in 2012.
It expects shipments for its new, thin Ultrabook PCs at 250,000 to 300,000 units in the fourth quarter.
The computers, super-thin laptops similar to Apple Inc's MacBook Air, are expected to revive the traditional computer in the face of the challenge from tablets, and Acer projects them to make up 25 percent to 27 percent of its mobile business in 2012.
Acer has been a dominant force in the PC industry, particularly in the low-cost notebook segment, but has failed to counter the runaway success of tablets such as Apple's hot-selling iPad that have cut into PC sales and hurt profits.
The company has been refocusing on mobile devices to drive growth after a first half that saw the acrimonious departure of its chief executive following a row over the company's strategy and a series of cuts to its shipment forecasts that sent its shares tumbling.
Acer last week reported a worse-than-expected unaudited net loss in the third quarter in the face of competition from tablets and the effects of its restructuring.
In the July to September period, Acer posted a net loss of T$1.1 billion ($36.37 million), worse than a consensus forecast of an T$807.5 million loss from 12 analysts polled by Thomson Reuters I/B/E/S.
The figure compared with a net loss of T$6.79 billion in the second quarter. In the third quarter a year earlier, net profit was T$4.29 billion.
© Copyright Thomson Reuters 2023. All rights reserved.