Activist Investor Carl Icahn Urges AIG To Break Up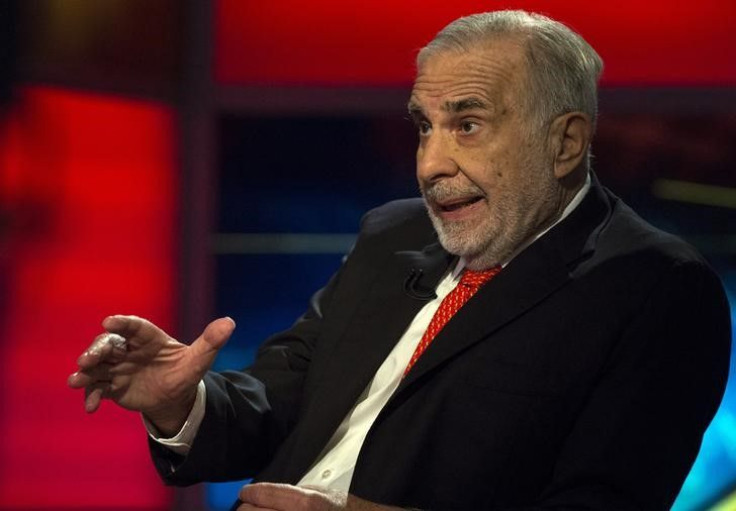 Activist investor Carl Icahn disclosed a stake in AIG Wednesday, in an open letter asking the insurance giant to drastically restructure its business. The billionaire investor said his proposal, which had the backing of other investment notables, would add value to the company that received the largest taxpayer-funded bailout of the financial crisis.
Icahn requested that AIG spin off its mortage insurance and life insurance divisions from its core business, both to simplify the company's structure and to duck out of heavy regulatory requirements that arose out of federal financial reforms.
"The company continues to severely underperform its peers and is now facing an increasingly onerous regulatory burden that will only further erode its competitive position," Icahn wrote. "Despite definitive action on the part of Congress and regulators to encourage this company to become smaller and simpler by splitting up, you have shown no sign of urgency."
The 2010 Dodd-Frank Act designated companies holding more than $50 billion in assets as "systemically important financial institutions," exposing them to a raft of additional regulatory obligations to ensure the safety of the financial system. AIG is among four nonbank institutions to earn the label.
One of those companies, GE Capital, has decided the regulatory burdens aren't worth it. In a move that has been generally welcomed by shareholders, General Electric has sold off huge chunks of its finance division, aiming to shed $200 billion in assets by the end of 2016.
AIG has so far declined to follow a similar process. Icahn and like-minded billionaires see that reluctance as a mistake. The company's return on equity, a measure of profitability watched closely by shareholders, lags well behind industry competiturs like Progressive and Allstate.
Hedge fund manager John Paulson was quoted in the letter saying AIG was "frankly overdue" in following other large insurance companies that have simplified. Breaking up into three independent companies, Paulson estimated, would increase AIG's stock price by 66 percent.
Icahn, who developed a reputation as a corporate-takeover artist in the 1980s and has lobbied Apple to disgorge billions of dollars of its cash hoard to shareholders, did not beat around the bush in his letter. He wrote, "It is now incumbent upon you to explain why, despite pressure from the stock price, regulators and shareholders, the company should not take immediate and transformative action."
"Time is of the essence," Icahn wrote.
© Copyright IBTimes 2023. All rights reserved.
FOLLOW MORE IBT NEWS ON THE BELOW CHANNELS