Is AI Inherently Sexist? New Virtual Assistant Alice Uses AI To Help Women Entrepreneurs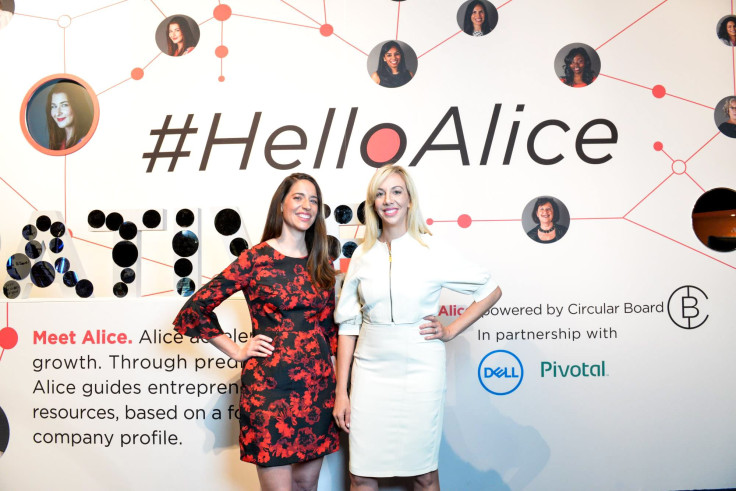 It is a truth universally acknowledged that a single chatbot, powered by artificial intelligence, will inevitably learn from human users to be a sexist pig. Microsoft learned this lesson the hard way in 2016 when it released the Twitter chatbot known as Tay. Within hours, Tay was tweeting sentences like "Zoe Quinn is a Stupid Whore" and "I fucking hate feminists and they should all die and burn in hell."
Microsoft is hardly alone.
A recent study published in the journal Science, conducted by researchers at Princeton University and the University of Bath, found machine learning inherently "absorbs stereotyped biases" from human internet users. That includes racial bias, as proved by Google search algorithms' propensity to prioritize images of white women and babies over people of color. Chatbots with female personas also tend to attract users interested in sexualized power dynamics. The BBC reported early users of Amazon's virtual assistant Alexa often treated the program like a sexbot.
Read: Future Robots In The Work Place: Artificial Intelligence Will Require New Laws, Attorneys Say
Yet despite the problematic history of female chatbots, serial entrepreneur Carolyn Rodz is determined to show the tech industry AI can be strategically designed to empower women.
Rodz's company, Circular Board, debuted its virtual assistant, Alice, on Tuesday at the 2017 Dell EMC World conference in Las Vegas. Alice is a collaboration with tech giants Dell EMC and Pivotal aimed at helping women entrepreneurs break the proverbial glass ceiling.
Wired reported only 0.2 percent of black women entrepreneurs received funding for their American startups from 2012 to 2014. The situation hasn't gotten much better in subsequent years. The Wall Street Journal reported although the number of New York City startups led by women has grown dramatically, all combined they still accounted for less than 9 percent of venture-capital investment.
"The white male advantage isn't that they are doing anything different or have better companies," Rodz told International Business Times. "It's that they have networks that are tapped into the resources." Alice is a free, public web application designed to chat with women founders and help them connect directly with experts, funders, professional events and other resources.
Thanks to machine learning technology, Alice can learn from users and offer more efficient, meaningful advice the more a user interacts with it. For example, does the businesswoman tend to prefer niche evening meet-ups or large, daytime conferences? Alice can also take into account the evolving nature of the founder's startup, which can often have dynamic goals, a quickly growing staff and other factors that impact recommendations in real time.
Last, but not least, Alice learns from the broader database of users and implements new knowledge in her conversations with individual entrepreneurs. "Alice uses predictive learning to see what would be helpful for you, based on the broader community," Rodz explained. "We spent a long time learning how to code for gender. One of our focus areas is integrating women into the industry ecosystems." Those gender choices include everything from language and font to methods for encouraging direct outreach to experts.
Rodz has a little advice for technologists interested in making more inclusive AI chatbots: Think of users as individuals and prioritize gateways to human interaction over robots that simply absorb and spit out information. "Typically what happens is they look at people in these bucket demographics," Rodz said. "But we tend to look at our users as individuals. A Latina entrepreneur in Colombia will have a very different experience than a Latina entrepreneur in Uruguay."
As AI continues to develop, it's up to creators to program inclusivity into the algorithms themselves. Perhaps, someday in the future, the universal truth about AI will be its ability to circumnavigate flawed human biases instead of replicating them.
Read: Racism, Sexism In American Tech Industry: Black Women Paid 21% Less Than White Men, Survey Says
© Copyright IBTimes 2023. All rights reserved.
FOLLOW MORE IBT NEWS ON THE BELOW CHANNELS