Al-Aqsa Mosque Update: Clashes Continue For Second Day At Jerusalem Site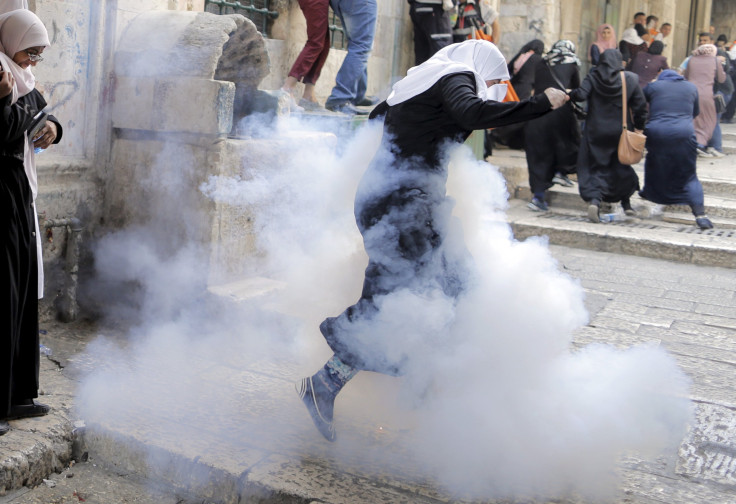 Palestinians and Israeli security forces continued to clash at Jerusalem's Al-Aqsa mosque for the second day running Monday, resulting in at least three arrests.
"As the police entered the compound masked youths fled inside the mosque and threw stones at the force," a police statement said, according to Agence France-Presse (AFP).
Police officials said they entered the hilltop mosque compound, which has often been the site of clashes between Jewish and Muslim worshippers, both of whom consider the site holy, to prevent Muslim youths gathering there from harassing Jews and tourists during visiting hours.
Israeli troops used tear gas and stun grenades as they entered the compound, in order to deter what they described as Palestinian "stone throwers."
Al-Aqsa manager Omar Kiswani told Al Jazeera that 80 "Jewish settlers," protected by the Israeli police, had confronted Palestinian volunteer guards and attacked the mosque.
An AFP journalist reportedly saw a Jewish visitor leaving the compound with Muslims outside. Non-Muslims are allowed to visit the compound, but Jews are not allowed to pray or display national symbols for fear of stoking tensions.
However, a Muslim witness told Al Jazeera that police had entered the compound and damaged the insides, including partially burning prayer rugs.
Palestinian Authority President Mahmoud Abbas condemned what he called an "attack" by Israeli troops.
"The presidency strongly condemns the attack by the occupier's military and police against the Al-Aqsa Mosque and the aggression against the faithful who were there," his office said in a statement.
The clashes also came shortly after Israeli Defense Minister Moshe Yaalon last week banned two Muslim groups from entering the compound.
Muslims fear that Israeli officials will change the rules governing the mosque, and far-right Jewish groups have pushed for more access to the compound and have proposed raising a new temple.
Israel seized East Jerusalem, where Al-Aqsa is located, after the Six-Day War of 1967 and later annexed it -- a move that the international community has not recognized.
© Copyright IBTimes 2022. All rights reserved.
FOLLOW MORE IBT NEWS ON THE BELOW CHANNELS