Alibaba Rival Tencent Puts Global Ambitions On Hold As China Sales Slow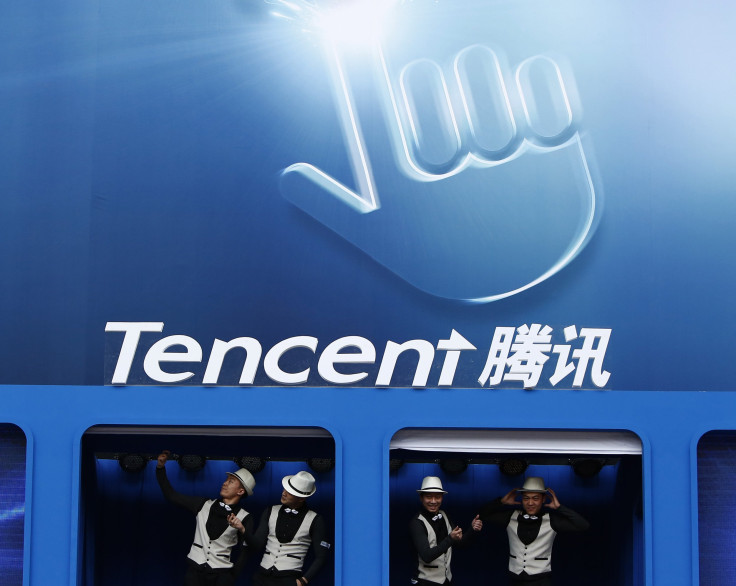 Even as Alibaba makes plans to expand into a number of Western markets, including the U.S., China's other e-commerce giant said it now intends to invest less in international growth, at least in the near term. Tencent Holdings officials revealed the pullback in the wake of a disappointing third-quarter earnings report Wednesday.
Tencent, along with Baidu Inc. and Alibaba Group Holding, dominates China's domestic market for e-commerce transactions, social media services and mobile apps and games. In recent quarters it has sought to expand its presence in the West with the launch of anglicized versions of its products, including the WeChat video-calling app and Lightalk, which enables free calling over 3G and 4G cellular networks.
But with domestic growth slowing, Tencent -- which trades on the Hong Kong Stock Exchange -- has pulled back efforts to market and sell its services abroad. The company reduced spending on overseas sales and marketing in the third quarter, Chief Strategy Officer James Mitchell said during a conference call with analysts.
"There's other markets, especially the Western world markets, where advertising is more expensive and less effective, where it was proving hard to make money," said Mitchell, according to Bloomberg.
Mitchell said WeChat in particular experienced slow adoption in the West. The service competes with Skype, a Microsoft platform that is the world's most widely used Internet calling service. Tencent said it plans to introduce a standalone version of WeChat with more robust features, including voicemail and address books.
Tencent on Wednesday said third-quarter net income came in at 5.66 billion renminbi ($924 million). That was up 46 percent from the same period a year ago, but was well short of the 6.1 billion RMB that analysts surveyed by Bloomberg were expecting. Revenue increased 28 percent, to 19.8 billion yuan ($3.2 billion), which represented the lowest year-over-year growth rate for the company in seven years.
Tencent blamed the earnings miss in part on a slowdown in mobile gaming revenues. Sales of mobile games fell from 3 billion yuan in the second quarter to 2.6 billion yuan in the third quarter.
Tencent's pullback comes as rival Alibaba, fresh off a record-setting, $25 billion initial public offering on Sept. 19 and pulling in a whopping $9.3 billion last week on China's Singles Day, is eyeing an expanded presence in the West.
In its IPO filing, Alibaba noted that it has taken a 39 percent equity stake in Shoprunner, an e-commerce startup that competes against Amazon. Like Amazon Prime, Shoprunner offers an annual membership fee that entitles members to highly discounted or free delivery. Alibaba has also invested in ride-sharing service Lyft and game developer Kabam.
"We hope to become a truly global company," Alibaba executive chairman Jack Ma told reporters, shortly before his company went public. For now, it appears Tencent is focused more on shoring up its business at home.
© Copyright IBTimes 2023. All rights reserved.