'All Saints Christmas' Hallmark Movie Premiere: Cast, Trailer, Synopsis
Hallmark Channel's merry holiday season continues with the newest "Countdown to Christmas" holiday premiere, "All Saints Christmas." The film, starring Ledisi and Roger Cross, premieres Sunday night.
The film will be an exciting one for fans, as it will give them an introduction to some new faces on the network. Ledisi, a 13-time Grammy nominee and 2021 winner for Traditional R&B Performance, has never appeared in a Hallmark film before and has generally focused on her music career. Her most notable acting role to date has been as Mahalia Jackson in both "Selma" and "Remember Me: The Mahalia Jackson Story."
As for Cross, he did previously appear in the Hallmark film "Game, Set, Love," but he is also a newer face. Other notable credits include the movie "A Christmas Letter" and his role as Six on "Dark Matter."
So what can fans expect from the film? Let's find out.
"Lisette Toussaint (Ledisi), a successful R&B singer whose life is at a crossroads, both professionally and personally, finds herself the focus of media scrutiny this Christmas when a picture of her with her ex-boyfriend, music producer Matthew Myles (Cross), is misinterpreted as a sign of their surprise engagement," a synopsis reads. "Word gets around at lightning speed, especially with her New Orleans-based family, who let her know they expect them both to come home for Christmas. Lisette and Matthew decide to ride out the surge of publicity over the holidays because setting the record straight runs the risk of making them look like it was just a PR stunt."
However, as they spend time together and prepare for her father's big retirement concert on Christmas Eve, they begin to reconnect in unexpected ways.
"Once back in the Big Easy, Lisette shows Matthew her beloved city at Christmas," the synopsis continues. "With the help of her brash, beautiful, and always opinionated family, she reconnects with her roots—both musically and emotionally. Most of all, she reconnects with Matthew."
But can Lisette put her past hurt aside? Or will she be doomed to have more heartbreak?
"But should she trust her heart when it comes to the man who already broke it once, or is she headed into another refrain of holiday heartache?" the synopsis asks.
"All Saints Christmas" premieres Sunday, Nov. 6 at 8 p.m. EST on Hallmark Channel.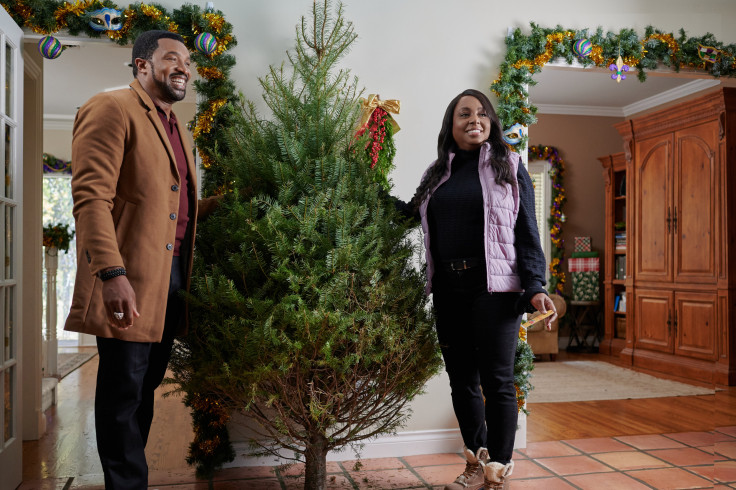 © Copyright IBTimes 2023. All rights reserved.
FOLLOW MORE IBT NEWS ON THE BELOW CHANNELS