Amal Clooney Has Been Chaneling Jackie Kennedy Of Late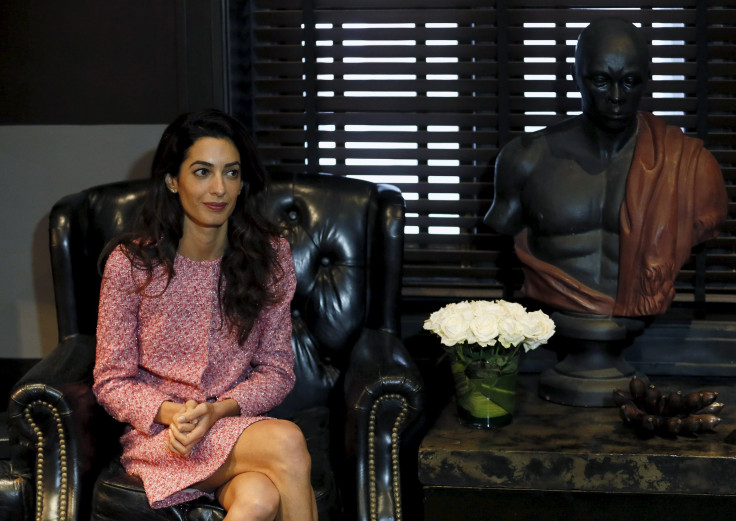 Amal Clooney of late has been chaneling Jackie Kennedy. The 38-year-old human rights lawyer, who is married to Hollywood heartthrob George Clooney appears to be inspired by the former first lady of the U.S. She wore a yellow silk chiffon gown by Atelier Versace at the Cannes Film Festival in May that had a striking resemblance to a gown worn by Jackie for her first state dinner.
For her latest high-profile appearance on the red carpet in Cannes, Amal wore a flowing yellow silk gown by Atelier Versace. The one shoulder dress was similar to the Oleg Cassini yellow silk evening gown with an overlay of crepe chiffon worn by Jackie Kennedy at the state dinner for the Tunisian president Habib Bourguiba in 1961.
It is not known whether the resemblance of the outfit that Amal wore was just a coincidence or not. However, she has taken style cues from the iconic and stylish Jackie, not only for her work style, but also her evening gowns. Her wardrobe seems to look straight out of Jackie's.
Amal opted for a pink tweed skirt suit similar to one of Jackie's most famous outfits. She also wore a vintage Balenciaga coat in Rome in May that gave a very 1960s vibe. Amal and her husband George were then in the Italian capital to meet Pope Francis.
In October 2014, during a meeting with Kostas Tasoulas, Amal dressed in a white Chanel skirt suit and carried a black Prada handbag. A very similar outfit was worn by the former first lady Jackie when she touched down at San Antonio airport during a campaign tour of Texas in 1963.
In January, Amal channelled Jackie in a red skirt suit by Dolce & Gabbana. She wore the outfit for a press conference at her Doughty Street Chambers office in London. Jackie, meanwhile, wore a similar looking Chez Ninon two-piece day Dress in February 1962. The former first lady wore a similar red wool suit by designer Oleg Cassini and matching beret during a state visit to Canada in 1961.
Jackie's famous skirt suit, which was thought to be Chanel, was actually by Chez Ninon. The Park Avenue salon created several outfits for her and the said design was a take on Chanel runway design. It was the same outfit Jackie wore the day her husband was assassinated.
© Copyright IBTimes 2023. All rights reserved.