Amazon Baby Registry Thank You List: Users Get Scam Emails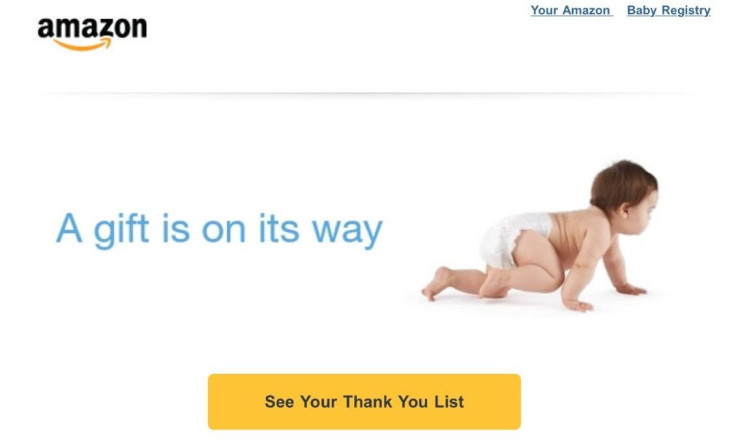 Update Wednesday, 10:30 a.m. EDT: "We are notifying affected customers. A technical glitch caused us to inadvertently send a gift alert e-mail earlier today. We apologize for any confusion this may have caused," an Amazon spokesperson told International Business Times.
Update 6:10 p.m. EDT: More than an hour after the baby registry email was sent to Amazon users the company had still not issued a statement or replied to International Business Times regarding whether the email was a mistake or spam.
Amazon users opened their emails to a surprise on Tuesday, a note alerting them that an item had been purchased from their baby gift registry and that they could view their "thank you list" online. The surprise wasn't the gift though, it was the fact that many of the users didn't have registries set up, or babies.
The email read: "Hello Amazon Customer, Someone great recently purchased a gift from your baby registry! You can visit your Thank You List to easily keep track of all gifts purchased. PS: Remember some Gifters like when it's still a surprise. Have a great day! Your Amazon Baby Registry Team." It was accompanied by a link that said "See your thank you list."
Amazon users started tweeting about the email mishap around 4:40 p.m. EDT on Tuesday. Some people took it upon themselves to contact Amazon's Help Twitter account. The response was simple and asked users to check a link to ensure that the email was indeed sent from Amazon.
The page that the link leads to says, "If you received correspondence regarding an order you didn't place, it likely wasn't from Amazon.com." It also asks that users who receive what might be fake emails send them as an attachment to stop-spoofing@amazon.com.
Amazon also recommends that users don't click on any attachments or links from suspicious emails and if they do to go to this page to protect themselves. Amazon warns that emails not from amazon.com can contain order confirmations for items users didn't order, requests for usernames or passwords or payment information, links to sites that resemble Amazon but that aren't the site and other markers.
It was unclear whether the email that was circulating on Tuesday was accidentally sent by Amazon or if it was a scam. International Business Times reached out to Amazon but had not received a response by 5 p.m. on Tuesday. However, the email appeared to have been sent from no-reply@amazon.com, meaning it might actually be from Amazon. The company says emails from anything other than @amazon.com is cause for concern. In this case though, the email appears to have come from an authentic Amazon account.

Users seemed pretty convinced that the email was really from the online retailer.
Some users pointed out that the email could be upsetting to those on the receiving end, especially those who struggle to conceive or who are infertile.
This concern was especially prevalent among women who received the email.
The Amazon Baby Registry site was down after the emails went out but was back up shortly after. The site simply asks users to sign in to start their registry, and allows those with a registry to be found via email. Amazon tweeted from its main Twitter account following the email blast but not about the possible incident, rather about the new Fire HD tablet.
© Copyright IBTimes 2023. All rights reserved.