Amazon Treasure Truck Locations: SNES Classic Still In Stock In These Cities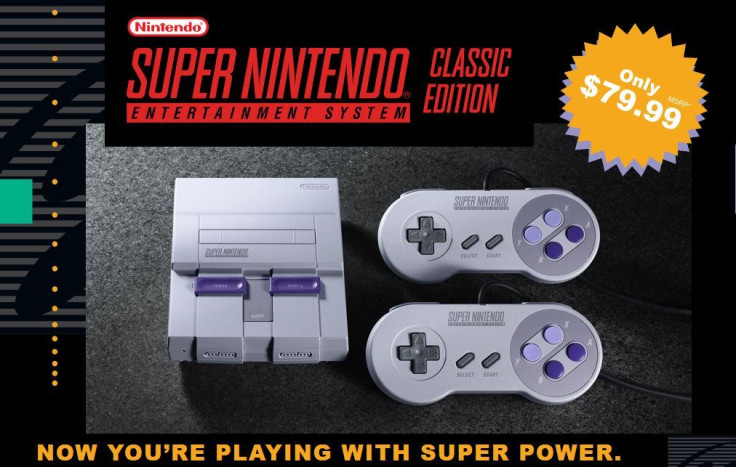 Nintendo's new console SNES Classic launched Friday but it could be a challenge for video game diehards to get their fill of nostalgia if they didn't plan ahead. Luckily, the Amazon Treasure Truck might have your back. But where are the Amazon Treasure Truck locations?
People searching for the Nintendo console, a miniature throwback to the Super Nintendo Entertainment System that came out in 1990, could download the Amazon mobile application for free, click on the menu, choose "Programs and Features" and click on "Treasure Truck" to choose their city and see if the roaming Amazon store in their area is carrying the SNES Classic.
According to the list of cities in the Amazon app, there is currently Treasure Truck service in Atlanta, Austin, Boston, Chicago, Dallas, Houston, Los Angeles, Miami, Minneapolis-St. Paul, Nashville, New York, Orlando, Phoenix, Portland, San Antonio, San Diego, Seattle and Tampa. However, the Treasure Trucks in some of those cities are already sold out of the SNES Classic.
At the time of this writing, Austin, Boston, Miami, Minneapolis, Nashville, Orlando, San Antonio and Tampa still had consoles in stock, but they could be gone relatively quickly. (UPDATE, 1:27 p.m. EST: Miami, Nashville and San Antonio are the only cities left on the Amazon app that show their Treasure Trucks are not sold out of the SNES Classic.)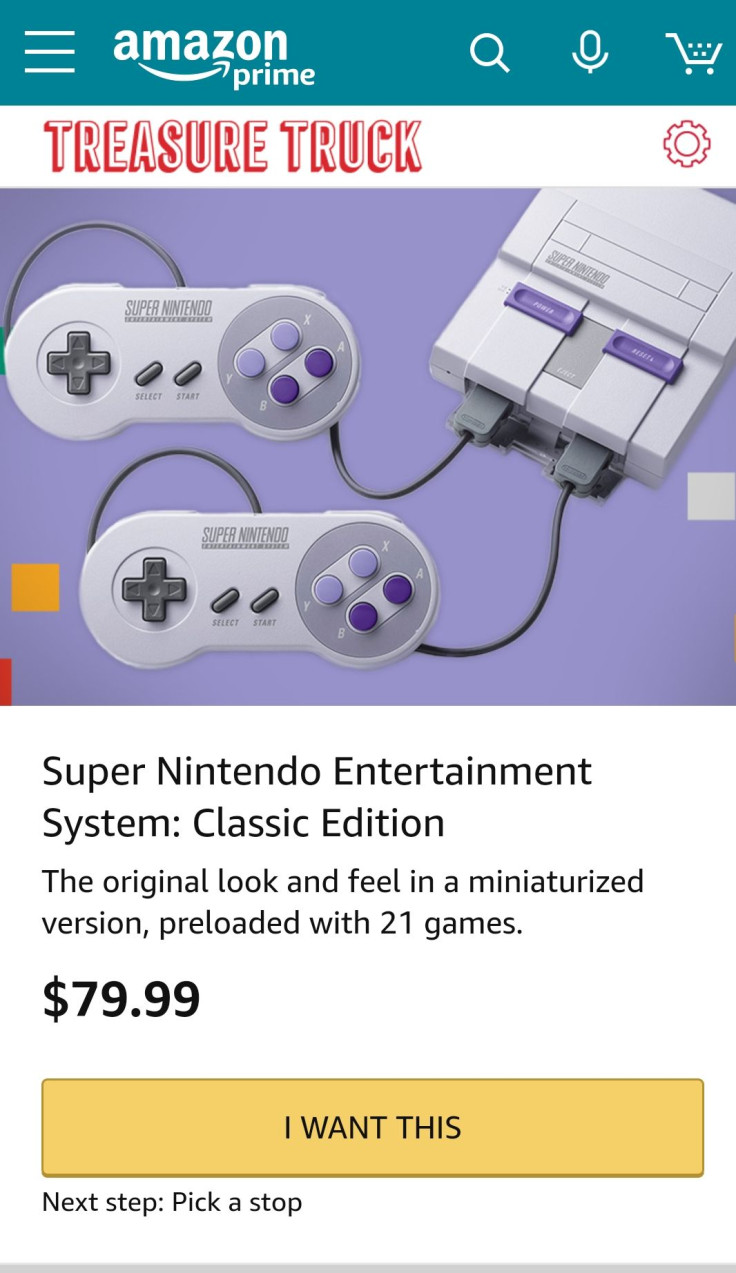 The Amazon app tells users where they can find the truck at any given moment so you can track it down and get your hands on some video games.
SNES Classic Games List
The SNES Classic comes with the throwback games Super Mario World, Super Mario Kart, The Legend of Zelda, F-Zero, Street Fighter II, Donkey Kong Country, Star Fox and 13 other classics, as well as the previously unreleased Star Fox 2. It also comes with two of the classic controllers.
Nintendo is selling the new console for $79.99 and the package includes and HDMI cable and a USB cable with an AC adapter.
The console is being released less than a year after Nintendo came out with the NES Classic Edition, which was a miniature tribute to the Super NES's predecessor console.
If the Amazon Treasure Truck is sold out in your area and you still want an SNES Classic, gaming enthusiasts on Reddit have been tracking the product and where it is and is not sold out in stores.
One user recently reported that the Nintendo store in New York, which is located in Rockefeller Center, has lots of the consoles to go around.
"Been in the line at Nintendo NY since 9am," the person wrote. "I'm standing on the line right outside the door. They assured us they have enough that 'we won't be selling out anytime today.' I'm not sure if the line still goes around the block. If you really want to secure one head over and get on line!"
The user also reported what you will need to buy one: "It's one per person. No cash. Must have credit card or debit card with a matching valid photo ID with same name on cards. Good luck."
Another user shared their experience with the console after getting it from GameStop in a pre-order: "It's beautiful and so small. I'm just holding it at work now. Good luck to those still questing!"
Although availability is limited and already sold out in many locations, in addition to Amazon and GameStop, the retailers listed on Nintendo's website as potentially carrying the game are Best Buy, Walmart, Target and Toys "R" Us.
© Copyright IBTimes 2023. All rights reserved.
FOLLOW MORE IBT NEWS ON THE BELOW CHANNELS