'American Idol' 2016 Contestant Tristan McIntosh Talks Season 15 Elimination, Hopes To Release New Music Soon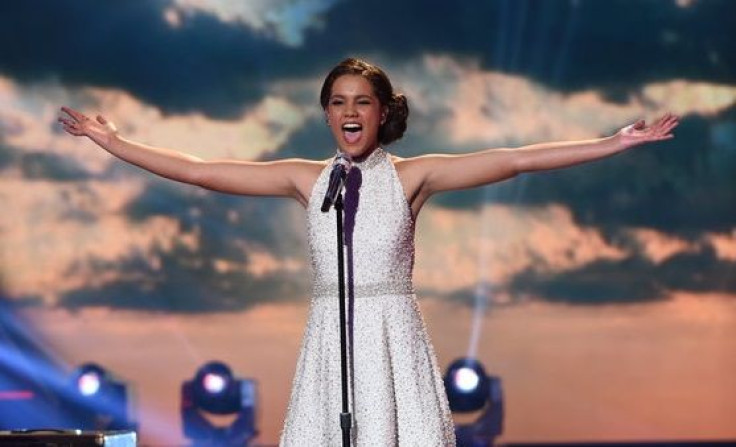 "American Idol" fans said goodbye to Tristan McIntosh ahead of the Top 5 reveal in episode 19. After not receiving enough votes from the public, Tristan found herself in the bottom two with contestant Sonika Vaid. After both ladies performed for the judges' save, Sonika was kept in the competition and Tristan was eliminated.
Shortly after being sent home, the 15-year-old Nashville resident took to Twitter to thank her fans for all their support. "Hey Guys!! I just wanted to let you guys know how thankful I am to even have made it this far. This is not the last you'll see of me," she tweeted.
In a periscope video, Tristan told fans that she still plans on making music and hopes to release something "as soon as possible."
"I plan on keeping… this whole thing is just a mess… I plan on still making music so you don't have to worry about that. I want to just to keep going where all musicians go, well where they aim to be," she said. "I just want to explore and keep making music and doing what I love to do for the rest of my life. And meeting you guys, because you are all so sweet!"
The county singer said she's looking forward to coming back to watch the finale and reflected on her "American Idol" experience, saying that the show is a great place to launch her career.
"You can only go up from here," she said in the video. "It's amazing just to be on a show that's shown around the entire nation … That's so many people I've been able to sing to."
As recapped, the Top 5 finalists include Sonika, La'Porsha Renae, Trent Harmon, MacKenzie Bourg and Dalton Rapattoni.
"American Idol" airs Thursdays at 8 p.m. EDT on Fox.
© Copyright IBTimes 2023. All rights reserved.