Americans Losing Health Insurance Turn To Crowdfunding Sites For Healthcare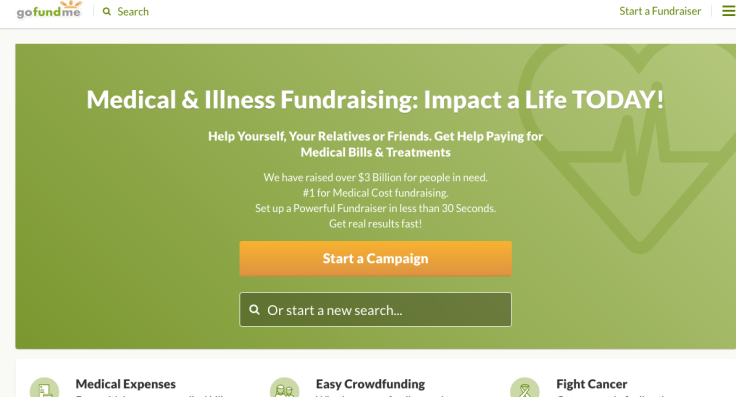 Crowdfunding sites like GoFundMe and GiveForward are making a lot of money from campaigns based on medical expenses, Bloomberg reported.
The crowdfunding sites are ready in case Trumpcare leaves millions of Americans uninsured. However, if the bill doesn't end up passing, business is still great for them.
Read: Drones Can Aid Those Suffering A Cardiac Arrest Before Ambulance Arrives, Researchers Say
"Whether it's Obamacare or Trumpcare, the weight of health-care costs on consumers will only increase," Dan Saper, CEO of YouCaring, told Bloomberg. "It will drive more people to try and figure out how to pay [for] health-care needs, and crowdfunding is in its early days as a way to help those people."
GoFundMe CEO Rob Solomon said medical fundraising campaigns have helped put the site on the map and called the category "a digital safety net." The business grew bigger this year with the acquisition of CrowdRise, which allows people to set up campaigns to "benefit medical bills, tuition, accidents, emergencies, sports teams, etc."
Solomon said in September 2015 the 1 million fundraisers set up in 2014 raised $1 billion from nearly 12 million donors. That number hit $2 billion in February 2016, and $3 billion last October.
A November study by NerdWallet pointed out GoFundMe said $930 million of the $2 billion raised since its 2010 launch was from medical campaigns.
As for YouCaring, which acquired GiveForward this year, medical fundraisers made up 70 percent of GiveForward's campaigns. Before the acquisition, medical fundraisers were approaching 50 percent of its business — and it's set to triple this year. Overall, YouCaring and GoForward have 8 million donors who have contributed $800 million to a variety of campaigns.
Other companies are trying to get into the medical fundraising business. Indiegogo, which is used to raise money for filmmakers, entrepreneurs, artists, musicians, etc., launched another platform in 2015 called Generosity. Medical is a major category on Generosity. Meanwhile, Facebook announced last month it will expand its fundraising tools, allowing people to hold campaigns for community, including medical costs like procedures or treatments.
However, you shouldn't try to rely on crowdfunding to pay for insurance. The NerdWallet study found just over 1 in 10 medical and health-care campaigns were fully funded.
Read: iOS 11 And watchOS 4: New Apple Watch And iPhone Health Features Will Help With Your Workouts
Obamacare vs. Trumpcare
The report follows last month's passage of the American Health Care Act by the U.S. House. The Republican health-care legislation paves the way to replace President Barack Obama's 2010 Affordable Care Act. The AHCA, also called Trumpcare, would eliminate the ACA's tax credits and Medicaid expansion. Obamacare barred insurance companies from denying coverage to those with pre-existing conditions. However, Trumpcare includes a provision that allows states to opt out of protections for such conditions.
The Congressional Budget Office report said last month the House version of the AHCA would leave an additional 23 million Americans without health insurance. CBO estimates that under Obamacare, 28 million Americans would live without insurance within a decade, but if Trumpcare passes, that number would jump to 51 million.
© Copyright IBTimes 2022. All rights reserved.
FOLLOW MORE IBT NEWS ON THE BELOW CHANNELS