Amid Anti-ISIS Fight, 90% Of Islamic State Oil Destroyed By US-Led Coalition Airstrikes In Syria And Iraq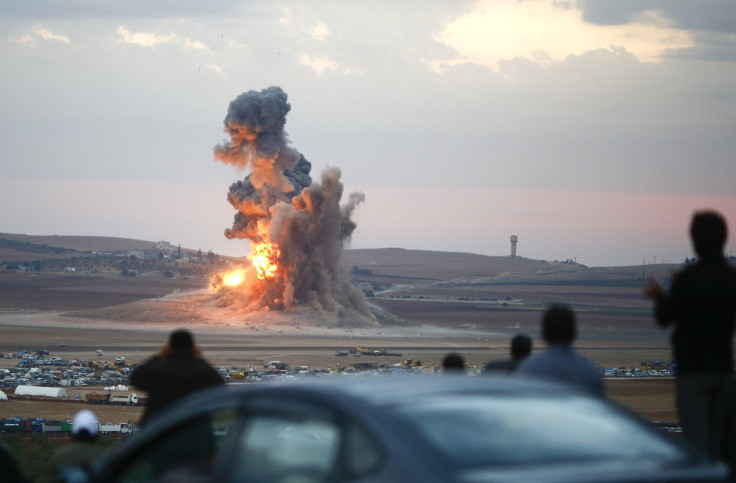 Ninety percent of the Islamic State group's oil capacity was destroyed following a campaign to cut potential revenue streams assisting in running the caliphate, the U.S.-led coalition fighting ISIS in Syria and Iraq announced, a U.S. military spokesman said Monday.
Col. Steve Warren also announced that the group, which calls the northern Syrian city of Raqqa its de facto capital, lost around 40 percent of its territory during the airstrikes, according to a report from the Russian news site Sputnik, which cited Al-Sumaria, an independent Arabic language news site in Iraq.
While U.S. airstrikes against ISIS began in Aug. 2014, with a military coalition growing in Syria up until mid-November and late December with the introduction of French and British jets respectively, targeting oil infrastructure and the vehicles that are transporting oil are relatively new. The first strikes on oil facilities began earlier this month.
U.S. Airstrikes On ISIS in Iraq and Syria | Graphiq
In targeting oil, coalition jets and ground force allies made up of Kurdish and Syrian rebel groups have slowed the terror group's efforts that bring in $50 million a month in profit. The group also brings in profits from selling wheat and cotton, and by collecting taxes from local residents and businesses.
The oil is allegedly being bought directly from ISIS by turkey for around $20 a barrel before it's added to general stocks, either used domestically or sold on for market price of about $36 a barrel, according to government officials from Russia, whose air force is also conducting airstrikes in Syria. Turkish President Recep Tayyip Erdogan has denied the claim.
"Shame on you - those who claim we buy oil from Daesh [ISIS] are obliged to prove it. If not, you are a slanderer," Erdogan said during a speech at the end of November, according to an Al Jazeera report.
© Copyright IBTimes 2022. All rights reserved.
FOLLOW MORE IBT NEWS ON THE BELOW CHANNELS