Amid ISIS Terror Threat, Is It Safe To Travel This Thanksgiving? Obama Reassures Nation Ahead Of Holiday Weekend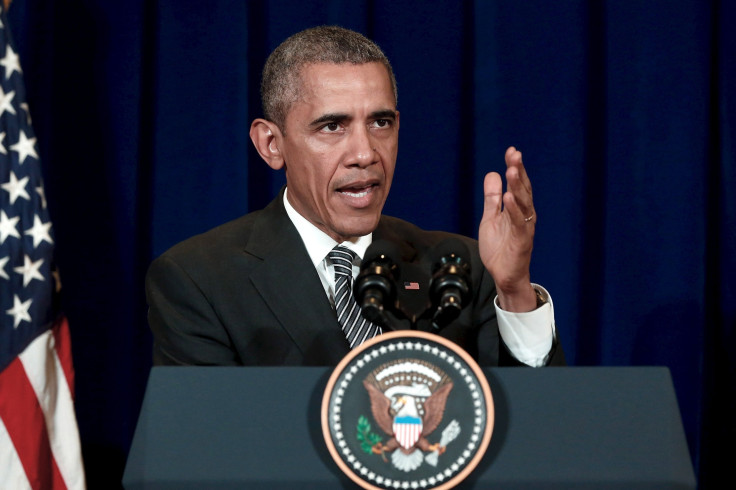 President Barack Obama spoke on U.S. homeland security Wednesday morning after meeting with his national security advisers for the second day in a row. "I know that families have discussed the threat of terrorism around the dinner table for the first time since Sept. 11," he said.
Obama added that while it is understandable Americans might be nervous, there is no credible threat to the United States, and people should go about their regular business. The president emphasized that the U.S. is stepping up its efforts to fight terrorism around the world and at home.
"In the event of a specific, credible threat, the public will be informed," Obama said. "Otherwise, Americans should go about their usual Thanksgiving weekend activities, spending time with families and friends and celebrating our blessings."
The advisers were expected to "brief him on our homeland security posture in the wake of the tragic attacks in Paris and as we enter the holiday season," the White House announced.
The president also met with the National Security Council Tuesday, and they discussed "ways we can enhance our existing security and intelligence cooperation" with other countries to fight the Islamic State group, the White House said, USA Today reported.
"The president was briefed that there is currently no specific, credible threat to the homeland from ISIL," the White House said in a statement about Tuesday's meeting, using another name for the terrorist group, aka ISIS.
Countries around the world have ramped up their efforts to fight ISIS after it claimed responsibility for the Nov. 13 attacks in Paris that left 130 people dead and hundreds more wounded. Since then, the group has issued threats against the United States and its allies.
The State Department issued a worldwide travel alert Monday, as millions of Americans are expected to travel this week for the Thanksgiving holiday. Despite there being no specific threat to the U.S., airports have beefed up security, and many travelers are likely to be more wary than usual this holiday season.
In recent days, Obama has met with other world leaders to determine how countries can work together to prevent further terror attacks from ISIS. Obama and French President François Hollande met Tuesday to discuss cooperation between their two countries.
"Today, François Hollande and I agreed that our nations must do even more together," Obama said at a joint press conference Tuesday at the White House with Hollande. "We'll do even more to prevent attacks at home."
Obama said the U.S. will more quickly share threat information with France, and he called on the European Union to require airlines to share passenger information, CBS News reported.
© Copyright IBTimes 2023. All rights reserved.