French President Hollande, Obama To Meet In Washington To Coordinate Paris Attacks Response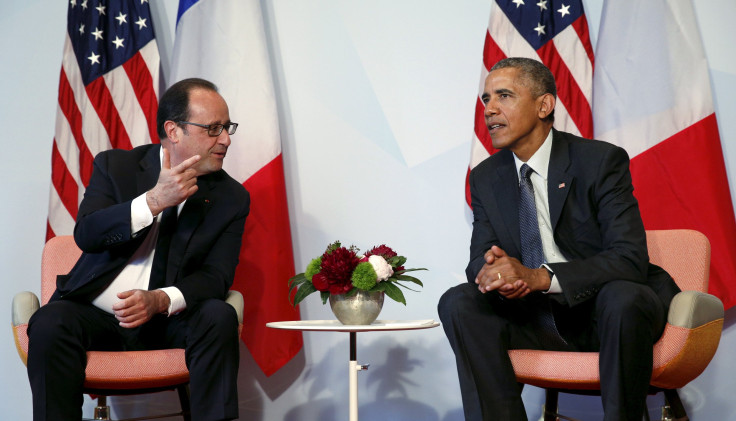 French President François Hollande will meet with U.S. President Barack Obama on Tuesday in Washington, D.C., where he plans to press U.S. President Barack Obama to act with more urgency in the fight against the Islamic State group. The meeting will come less than two weeks after the terrorists -- also known as ISIS or ISIL -- claimed responsibility for deadly attacks in Paris that killed at least 130 people.
Hollande plans to emphasize to Obama that an immediate response is critical in order to alleviate Europe's refugee crisis, according to French diplomats. More than 30,000 refugees will be offered refuge in France in the next two years, with many of them seeking asylum from Syria and the horrors of ISIS that have gripped the area.
"The message that we want to send to the Americans is simply that the crisis is destabilizing Europe," a French diplomat told Reuters. "The problem is that the attacks in Paris and the refugee crisis show that we don't have time. There is an emergency."
Following the Nov. 13 attacks, Obama declared the United States' allegiance with France at a news conference held within hours of the first explosion at the French national soccer stadium. The two countries are part of a 65-member coalition that aims to defeat ISIS.
"We stand prepared and ready to provide whatever assistance that the government and the people of France need to respond," Obama said. "France is our oldest ally. The French people have stood shoulder to shoulder with the United States time and again. And we want to be very clear that we stand together with them in the fight against terrorism and extremism."
Obama and Hollande will meet in the Oval Office at the White House on Tuesday morning. They also plan to hold a news conference at 11:30 a.m. EST following the meeting, CBS News reported.
© Copyright IBTimes 2022. All rights reserved.
FOLLOW MORE IBT NEWS ON THE BELOW CHANNELS