Amtrak Derailment 2015: Well Before Philadelphia Crash, US Rail System Lagged Behind Rest Of The World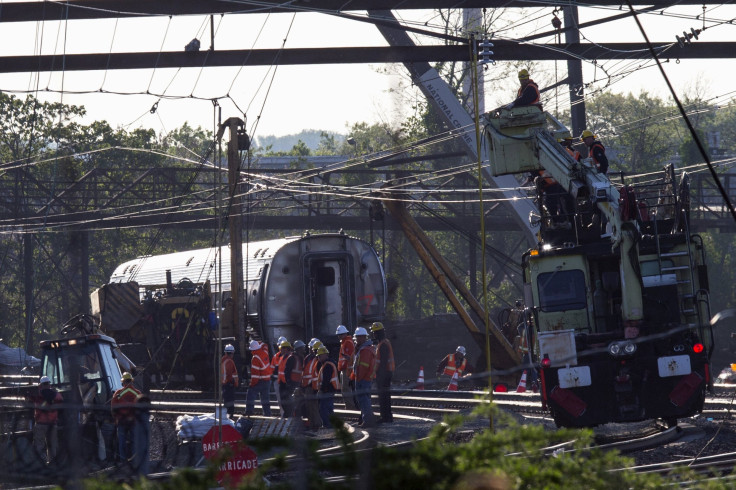 Well before a crowded Amtrak train derailed in Philadelphia this week, killing at least eight people, the American rail system was struggling to find the money to manage basic maintenance, to say nothing of the long-discussed safety upgrades that might have prevented Tuesday's disaster.
In much of the rest of the world, support for passenger rail systems is a paramount political priority, because in most countries, the train is a primary means of moving from city to city. But in the United States, where gasoline prices are relatively cheap, and where the embrace of the automobile seems an intrinsic part of the culture, Amtrak has frequently failed to secure its budget requests from Congress and is popularly maligned as a distraction.
In the U.S., investment in rail infrastructure totaled just 78 cents per $1,000 of gross domestic product (GDP), while China and India made investments of $12.50 and $4.70 per unit, respectively, according to a 2008 analysis from SCI Verkehr, a global transportation consulting firm in Germany. In France, Spain, Italy and other European nations, rail investment was more than double that of the U.S. per $1,000 of GDP.
Investments have since grown in other nations as leaders upgrade their systems. China, for instance, plans to spend $128 billion on rail this year alone, while India's government is investing $137 billion in its aging network over the next five years.
"But it hasn't changed here in the U.S.," said Michael Renner, a senior researcher at the Worldwatch Institute, who has studied the competitiveness of global rail systems. "If anything, federal appropriations for Amtrak have by and large stagnated at a little above $1 billion a year, which is just way too little to do anything comparable to what's being done in Europe, Japan or China."
America's uninterest in passenger rail traces back to at least the 1950s, when global oil production was surging, U.S. automakers were thriving and the Dwight D. Eisenhower administration launched the Interstate Highway System to make it easier to reach America's states and cities by car.
"The whole situation of very cheap oil, very cheap gasoline -- all of that came together to make it look like, 'Who needs trains? We can just get around in our cars,' " Renner said, noting that investments in the U.S. airline industry similarly smothered the national interest in long-distance rail travel.
"I think that bias is still very much in place," he said. "The political will is sorely lacking at this point."
Around 85 percent of Americans now commute to work by car, either alone or in car pools, the U.S. Census Bureau found. And few of those people can actually travel by train even if they want to. Beyond the densely populated U.S. Northeast and Pacific Northwest, Amtrak and commuter rail systems are scattered and scarce. All of this serves to further drain the political appetite for passenger rail: Amtrak is federally funded, but many of the nation's lawmakers come from states with little to gain from a boost in train spending.
"Outside of the Northeast Corridor, and even inside it, it's not a big deal. Few people use it. In most parts of the country, it plays a negligible role in people's lives," said Michael Smith, an urban planning professor at Rutgers University in New Jersey.
Travel by Amtrak is actually increasing -- it's gone up by 55 percent since 1997 -- but the system still accounts for a small slice of the U.S. population. Amtrak carries 31 million passengers each year, most of whom ride within the 456-mile Northeast Corridor, where more than 2,200 trains operate daily.
Given the lack of federal investments, Amtrak is performing at a scale far below its peers in other countries, where leaders and citizens view passenger rail as a necessity of daily life.
"Ours is a pretty pathetic situation when you look at the rest of the world and every major industrial nation has high-speed rail systems and state-of-the-art passenger trains," said Andy Kunz, president of the U.S. High Speed Rail Association, a trade group that advocates for a national high-speed rail network. "But you get on one of our Amtrak trains here in the U.S. and you feel like you are in some run-down country."
Kunz is exaggerating to some extent. Many Amtrak trains, especially in the highly trafficked Northeast Corridor, are outfitted with decent Wi-Fi connectivity and relatively comfortable seating. But a key metric in which they're lacking is on-time performance; Amtrak is notoriously unreliable in that regard. By U.S. standards, if a train is late less than 25 percent of the time, it's considered to be in the top tier in terms of punctuality. In Japan, by comparison, trains are virtually never late.
"Our regional trains tend not to be on time, and the cross-country trains are routinely dozens of hours late," Smith said. "The Northeast Corridor does all right, though by the standard of a lot of other developed nations, its performance is subpar. To most people, amenities are not nearly as important as being able to get somewhere fast and on time."
U.S. passenger rail is no more impressive when it comes to speed. China, Japan and Germany all boast slick, state-of-the-art high-speed rail systems with trains whizzing between cities at up to 200 mph. Meanwhile, the Acela express train on the Northeast Corridor tops out at 150 mph, though it typically travels around 135 mph.
Improving Amtrak's speed, reliability and cross-country connectivity would require federal investments in the hundreds of billions of dollars, Renner of the Worldwatch Institute estimated.
Instead, the Obama administration in February sought almost $2.5 billion for Amtrak for the upcoming fiscal year to improve the rail line's tracks, tunnels and bridges. The Republican-controlled House is aiming for even less: On Wednesday, not 24 hours after the deadly derailment in Philadelphia, the Appropriations Committee approved a bill that would cut Amtrak's budget by $251 million, to $1.1 billion.
Federal support for transportation in general is sorely lacking across the board. The American Society of Civil Engineers gave the nation's overall infrastructure a D-plus in its 2013 report card, an average weighted down by problems in roads, transit, aviation, drinking-water supply and sewage treatment. The professional group estimated that repairing infrastructure to good working order would require an investment of $3.6 trillion by 2020.
"We're clearly lagging across all our major physical assets, all of which are ultimately important for not just transporting passengers, but also transporting goods," said Joseph Kane, an infrastructure researcher at the Brookings Institution's Metropolitan Policy Program. "The investment needs are huge, and we need to meet that demand."
For passenger rail, the unwillingness of Congress to boost public support for Amtrak and other commuter lines signals the U.S. is likely to continue lagging far behind rival economies like China, Japan and Europe in the coming decades.
The fatal crash in Philadelphia "does speak to the larger picture of Amtrak being this beleaguered operation that barely holds on," Renner said. "Unfortunately, it becomes a self-fulfilling prophecy when you starve the operation to the point where it can't deliver."
© Copyright IBTimes 2023. All rights reserved.