Analysis: Apple Struggles to Take Bigger Bite out of China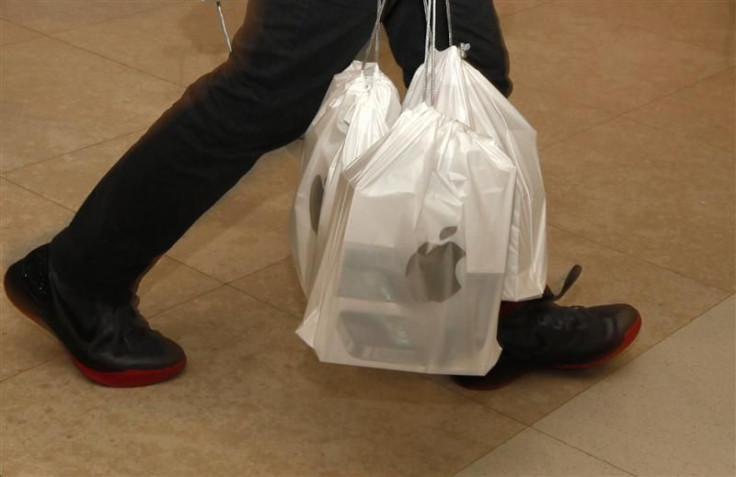 (Reuters) - Apple Inc's share of China's booming smartphone market has risen sharply in the past two years, but for now the company that sells the iconic iPhone is being outpaced by nimble rivals.
It is not that Apple's iPhones and iPads are losing favour among Chinese consumers. The iconic products are flying off the shelves at Apple's five flagship stores in Shanghai and Beijing, unauthorized sellers, and even from fake shops dressed up to look eerily like the real thing.
The problem facing Apple seems to be timing.
Network technology is not sufficient to fully support iPhone and iPad capabilities, while other handset makers supply phones that support the various mobile standards used in China.
A tie up with another telecoms service provider would help catapult Apple sales. But the biggest by far, China Mobile Ltd with more than 600 million subscribers, may not have matching technology in place commercially until late 2012 or 2013.
In the absence of that, Apple's relatively rigid global pricing structure and limited range of models are allowing more flexible competitors to grab market share at a faster pace.
Apple's smartphone market share has more than doubled since the first quarter of 2010, but others are doing better. Samsung Electronics Co Ltd's market share has more than quadrupled over the same period.
Apple's strategy in China is to capture the higher-end segment, which is a big enough market for it to tackle, said Jane Wang, an analyst at UK research firm Ovum.
It has cut prices of some of its products, which will definitely be more affordable for some budget-conscious consumers, but it's only going to go so far in lowering prices.
China has more than 950 million mobile phone users, more than Europe's entire population, and its economy is expected by many to overtake the United States as the world's largest in 10 to 15 years.
Although Apple makes laptops, desktops and iPods, it generated about half its sales from iPhones in the fourth quarter, making the product key to success in China.
The U.S. technology giant's sales in Greater China -- mainland China, Hong Kong and Taiwan -- have been skyrocketing. Fourth-quarter revenue increased four-fold to $4.5 billion, out of a global total of $28 billion.
Demand is so strong in China that smuggling of real iPhones and sales of fakes are on the rise. Copy-cat stores masquerading as real Apple outlets -- and selling genuine Apple products -- have sprouted up everywhere from Beijing in the northeast to Kunming in the southwest.
PRICE WARS
The relatively high price of iPhones is a major deterrent, giving market inroads to rivals such as Samsung and local rivals Huawei Technologies and ZTE Corp, analysts said.
Chinese consumers can typically buy a smartphone from other brands at below 2,000 yuan ($308).
A basic iPhone 4 costs double that -- 3,988 yuan in China. Apple is selling its lower-end iPhone 3GS at 2,888 yuan, which will likely draw some budget-conscious consumers.
But it has not been enough.
In the third quarter, Huawei overtook Apple as the No.3 smartphone vendor in China.
Apple now trails Nokia Oyj, Samsung and Huawei, which all have a wider range of products targeting various segments of customers.
In fact, Apple's smartphone market share shrank to 10.4 percent in the third quarter from 13.3 percent in the previous quarter. Samsung's shot up to 19.2 percent from 14.6 percent and Huawei to 11 percent from 7.3 percent.
Nokia, the market leader, is fast-losing traction. It holds top slot with 26.8 percent share but that has dropped from 36.2 percent in the previous quarter and 71.4 percent a year earlier.
At the end of the day, Apple will only go so far to lower the pricing because if they go too low, it's going to damage their iconic brand, said Michael Clendenin, managing director at China-focused technology advisory firm RedTech Advisors in Shanghai.
DIFFERENCE
The real missing link in Apple's approach to China is a tie up with China Mobile, the country's top mobile carrier by far, analysts said.
Apple's current partner, China Unicom, is a distant second with 192.4 million mobile subscribers.
I think a good strategy for Apple is to try and seal deals as soon as possible with the other two China telecom operators, said Ovum's Wang.
However, so far negotiations with China Mobile and fixed-line giant China Telecom, which also has a mobile network with 120 million subscribers, have been protracted.
The main sticking point has been the terms of the agreements, which could range from revenue sharing that would allow both parties to split money from data charges to simple bulk purchases.
However, even with another partner, Apple must contend with another barrier -- China's slow uptake of 3G technology.
Only about a tenth of China's almost 1 billion mobile phone subscribers use 3G. Most users make phone calls and send text messages.
The best immediate option for Apple may be China Telecom, which uses a CDMA technology that the iPhone can use.
China Mobile though uses its homegrown proprietary 3G technology called TD-SCDMA. To tap that, Apple would have to design an iPhone just for China Mobile's network.
It's quite meaningless for China Mobile and Apple to sign an agreement based on the current TD-SCDMA network. Using the 4G TD-LTE technology that China Mobile is developing will be more feasible, said Kevin Wang, research firm iSuppli's director of China research.
China Mobile is conducting trials on its 4G network, with a commercial launch expected to take place late next year or early 2013. Its commercial 4G rollout will be a precursor to an agreement with Apple, analysts say.
Apple still has the upper hand. Even though Jobs is not around anymore, Apple's products will still remain quite popular, so they have more bargaining power, said Wang from Ovum.
The slide in Apple's market share may prove temporary or until it can sign a deal with a Chinese telecoms network. Similar deals in other countries have propelled sales sharply.
In the meantime, Chinese have found a way to own an Apple iPhone and still subscribe to China Mobile services. In fact, 10 million China Mobile subscribers use an iPhone because some vendors will cut the service provider's SIM card so that it can fit into an iPhone.h
© Copyright Thomson Reuters 2023. All rights reserved.