Android 4.3 Jelly Bean Release Date Coming? New OS Allegedly Spotted On Samsung Galaxy S3 And HTC One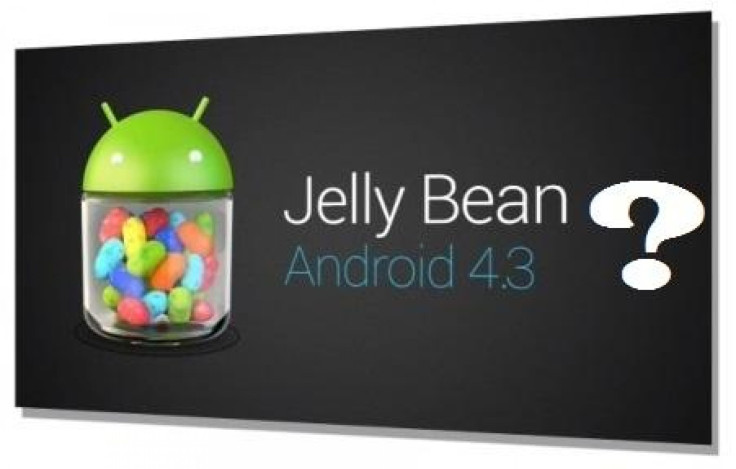 Android 4.3 Jelly Bean may soon be heading to AT&T with sightings of the operating system reported for two popular devices. While Android 4.3 was spotted on the AT&T model of the Samsung Galaxy S3 via a GFXBenchmark, a build of Android 4.3 was also leaked for the AT&T HTC One. Pundits believe both sightings are signs that Android 4.3 will soon be coming to the U.S. handsets, especially on AT&T.
HTC has long confirmed an Android 4.3 Jelly Bean update for the HTC One, while recent news from Samsung indicates that the operating system may soon some to the Samsung Galaxy S3 and other handsets, which have been awaiting an update. During the Sept. 4 unveiling of the Samsung Galaxy Note 3, the Korean manufacturer announced that the Samsung Galaxy S3 as well as the Galaxy S4 and Galaxy Note 2 would be receiving updates, which would make the handsets compatible with the Samsung Galaxy Gear companion device that was unveiled alongside the Note 3. Many believe this software update will be Android 4.3 because of the Bluetooth Low Energy connectivity that is required to connect such external accessories as Galaxy Gear to handsets, which is notably a feature of Android 4.3 Jelly Bean.
In addition, rumors have proposed that the Samsung Galaxy S3 and Samsung Galaxy Note 2 will skip the Android 4.2.2 update in favor for Android 4.3. Many argue that both Android 4.2.2 and Android 4.3 are such minor device updates that it makes sense to update older devices directly to Android 4.3 in order to roll out a more substantial update. HTC has stated that its HTC One will update directly to Android 4.3 from Android 4.1 for this very reason. Currently, both the Samsung Galaxy S3 and the Galaxy Note 2 run various iterations of Android 4.1 Jelly Bean.
According to Samsung, the cross-compatibility update will roll out in October for the Samsung Galaxy S3 and the Galaxy S4; however, many note, that specific roll out could be for International models and U.S. models may have to wait even longer to see an update.
Similarly, the international model of the HTC One was updated in July, but to Android 4.2.2, while U.S. models of the handset remain on Android 4.1. HTC reports that HTC One will update to Android 4.3 in the U.S. by the end of September.
Meanwhile, the Android 4.3 build, which was leaked, is available as a ROM for the AT&T HTC One and is reportedly the exact build, which users will receive once the official OTA update for the HTC One is available. Those interested in the ROM can head over to RootzWiki for more information.
Follow me on Twitter @FionnaatIBT.
© Copyright IBTimes 2023. All rights reserved.