Android Name Game: Guess Which is Phone and Which is Condom?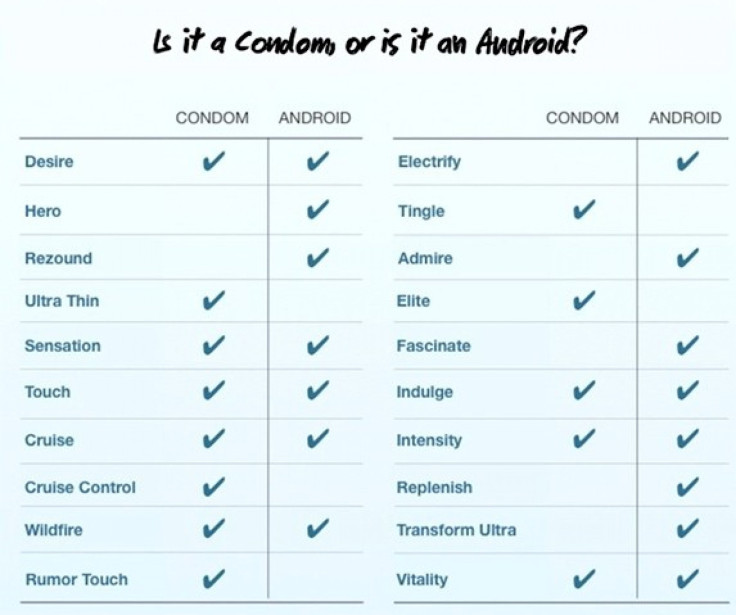 Question: is that an Android phone in your pocket, or a condom? We're not joking around here. This is a serious down-to-earth question. Have you ever realized that many Android smartphones borrow the names from actual condoms? You probably wouldn't, but it is true. Sometimes we see the names of certain Android smartphones and we have to wonder what drove the manufacturer to name its device the Indulge, or the Sensation, all of which are names of condoms.
The boys over the Intercom Blog created a very interesting piece outlining the similarities between Android smartphone names and actual condoms, and from what we have seen, we are dead certain that manufacturers are getting inspiration from condom names, and it seems to be working well for these companies.
Giving a device an enticing sexual name appears to get our minds into a frenzy to go out and spend our cash, even if some of these devices are not worth a dime.
Dude #1: Hey there lad, what's that bulge in your pocket.
Dude #2: Oh this thing? It's my Wildfire.
Dude #1: That's kinda big for a condom, don't you think?
Dude #2: A condom? Oh noes, it's my Android smartphone, the HTC Wildfire. Here take a look!
Dude #1 *facepalm*
OK, so a typical conversation probably wouldn't play out like that, but seriously guys, many of you Android owners are walking around with a condom in your pockets. It's not so bad when you think about it though.
(reported by Vamien MacKalin, edited by Surojit Chatterjee)
MUST READ - New iPad 3 Versus Galaxy Note 10.1: Can Apple's Best Bet Take on New Samsung Tablet?
MUST READ - iPhone 5 Release Date: Top Features We Expect to See in New Apple Phone
MUST READ - iPhone 5: The Best and Hottest Concept Designs So Far (PHOTOS)
MUST READ - Samsung Galaxy S3: Forget iPhone 5, HTC One X is the Real Threat to Samsung Super Phone
© Copyright IBTimes 2023. All rights reserved.