iPhone 5: The Best and Hottest Concept Designs So Far (PHOTOS)
The next-generation iPhone, dubbed iPhone 5, is the talk of the town, and Apple hasn't even announced it yet. Rumors and speculations are constantly building up in anticipation of the new device, and everybody expects it to be amazing. Concept designs for the new iPhone are surfacing every day, but one in particular stands out from the crowd: Antonio De Rosa's, of ADR Studio.
De Rosa's 'The New iPhone'
The Italian designer's mock-up, or, as he called it, the new iPhone, is so imaginative that it swipes you off your feet. On March 22, De Rosa posted several images of his concept design of iPhone 5, touting amazing features the smartphone could have. Every Apple concept is a new challenge. The cool thing is you can use your own imagination to create some features [that] don't exist on the market, focusing on design aspect and futuristic approaches, De Rosa wrote.
No SIM, LED Border, LTE
De Rosa's iPhone is super-slim and has an aluminum body, does not require a SIM card and, perhaps one of the greatest features, it integrates the home button into the display screen. The top edge of the phone features volume buttons and a headphone jack. Moreover, the concept design features a LED-powered border to show the strength of battery life or to show you a preferred caller: you can choose the color thanks to the LED-edge dedicated app. The design also incorporates some of the features the new iPhone is rumored to have, such as 4G LTE connectivity and the high-resolution Retina display technology.
Three Retina Displays
But that's not nearly all. In the designer's vision, the new iPhone has not one, but three Retina displays. The main screen is in the middle, a top screen shows notifications and network information, while the third screen serves as App dock, multitasking panel etc. The concept design iPhone is available in several colors. Other envisioned specs include Siri, Apple's popular voice-operated assistant, gyroscope on 4-axis, and motion sensor.
Apple has not announced the new iPhone yet, but most rumors point to an October release, which is highly likely considering Apple's previous launch schedules.
Start the slideshow to check out Antonio De Rosa's (ADR Studio) concept designs of iPhone 5, as well as other hot concept designs of the much anticipated Apple smartphone. And don't forget to let us know which is your favorite.
(reported by Alexandra Burlacu, edited by Surojit Chatterjee)
MUST READ - April Fools Pranks: Top 10 Apps to Play Pranks on Your Friends (Photos)
MUST READ - Tim Cook Beats Steve Jobs in Popularity Among Apple Employees: Why?
MUST READ - Angry Birds Space: Worth Downloading?
MUST READ - Nokia Lumia 900 For Free? Yes, Says AT&T (But You Better Hurry)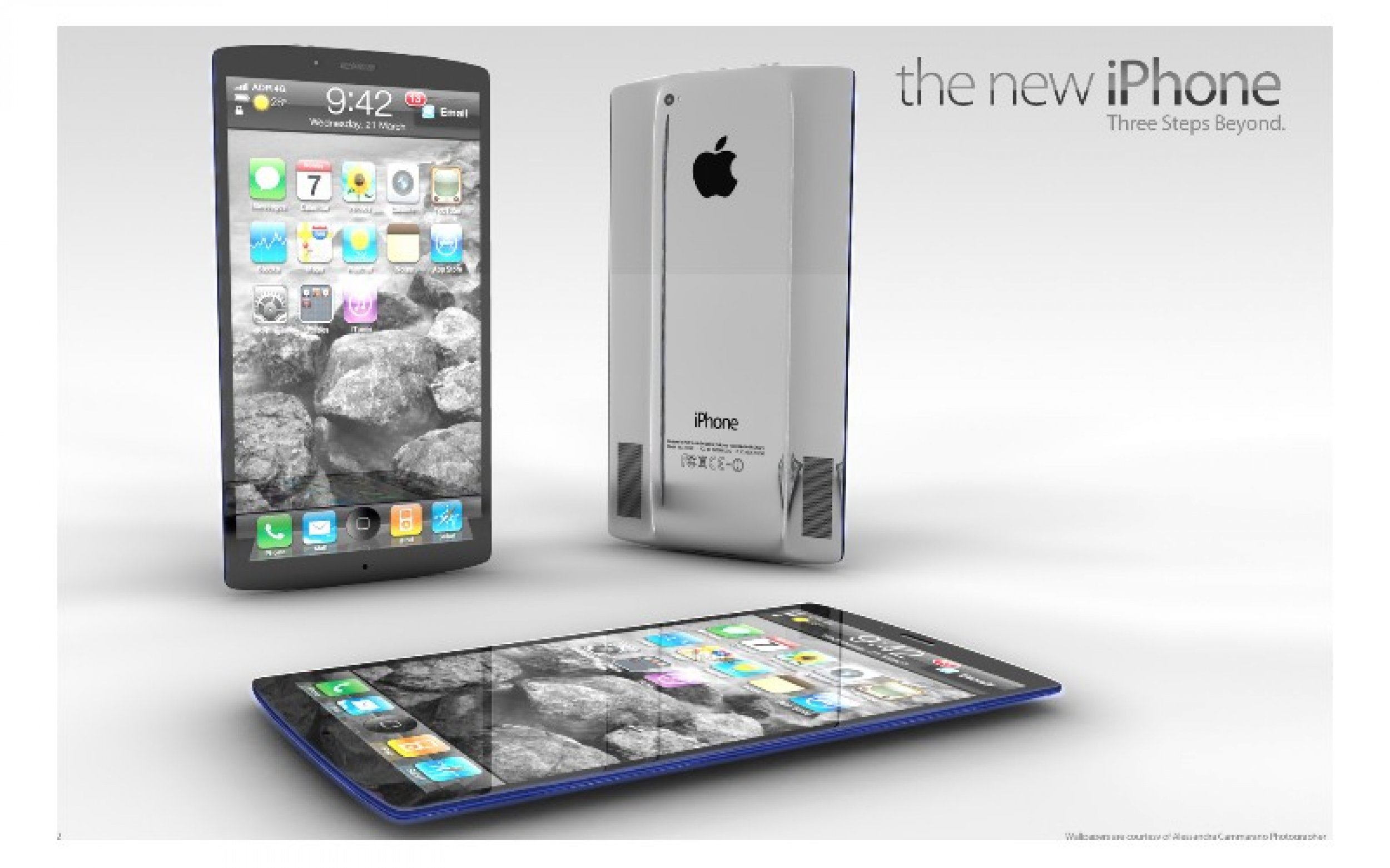 © Copyright IBTimes 2022. All rights reserved.
FOLLOW MORE IBT NEWS ON THE BELOW CHANNELS