Andy Rooney of '60 Minutes' Dies at 92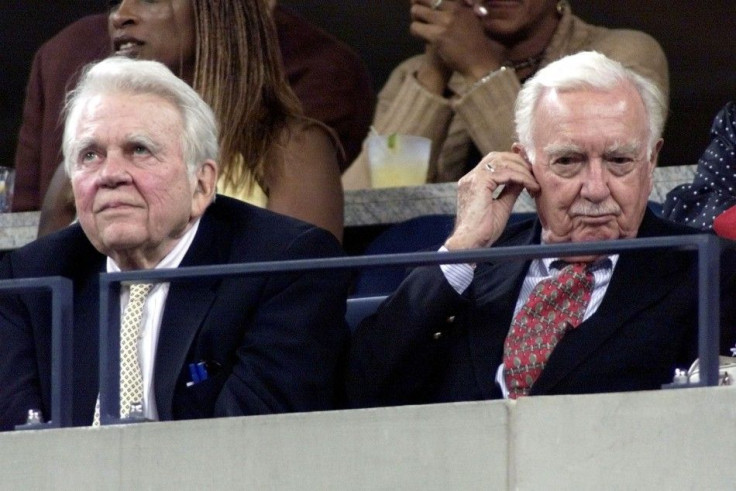 Andy Rooney, the curmudgeon who appeared for decades on CBS TV's news-program '60 Minutes', died on Friday at the age of 92 in New York City.
CBS stated the cause of death was complications arising from minor surgery.
Rooney, who also wrote several best-selling books, began appearing in short humorous segments on the popular show in 1978 and never left, refusing to retire. His last weekly appearance was on October 2.
Three weeks later, CBS revealed Rooney was hospitalized.
He lived in Manhattan, but according to the New York Times, also maintained homes in Rensselaerville, N.Y. and Rowayton, Conn.
After serving in World War II, Rooney became a writer and toiled for radio stars and other entertainers, including Arthur Godfrey, Victor Borge, Sam Levenson and Garry Moore.
By the late 1970s, his short weekly segments on 60 Minutes made him nationally famous. In stark contrast to the often-highly serious topics addressed by the other reporters like Mike Wallace, Harry Reasoner and others, Rooney would pontificate on life's mundane and small absurdities and annoyances.
Rooney's craggy face, bushy eyebrows and catchphrase "Did you ever notice…?" became iconic.
The New York Times reported that he idolized Dwight D. Eisenhower, but detested General George S. Patton and Ernest Hemingway, both of whom he knew personally.
Rooney elicited much controversy over the years.
He frequently got in trouble with bosses at CBS, often criticizing one-time chief executive Laurence A. Tisch for his cost-cutting and layoffs.
When rock star Kurt Cobain of Nirvana died in1994 after committing suicide, Rooney's dismissive remarks about the musician prompted widespread outrage.
A few years prior to that, CBS temporarily suspended him without pay for three months for making offensive statements about blacks and homosexuals.
In a December 1989 TV special, he declared: "Many of the ills which kill us are self-induced. Too much alcohol, too much food, drugs, homosexual unions, cigarettes. They're all known to lead quite often to premature death."
He reportedly also said in a magazine interview: "I've believed all along that most people are born with equal intelligence, but blacks have watered down their genes because the less intelligent ones are the ones that have the most children. They drop out of school early, do drugs and get pregnant."
(Rooney denied ever making such a statement).
Interestingly, Rooney's absence from '60 Minutes' drove ratings downward, while letters or complaint poured into CBS offices in New York.
However, there were more controversies later – mostly involving sports. In 2002, he complained about women working as sideline reporters during football games. In 2007, he suggested that Major League Baseball had too many Hispanic players.
He was also reportedly uncomfortable with his fame.
The Wall Street Journal said he once complained: "I spent my first 50 years trying to become well known as a writer, and the next 30 trying to avoid being famous. I walk down the street now or go to a football game and people shout, 'Hey, Andy!' And I hate that."
Rooney's former wife Marguerite died in 2004 after 62 years of marriage. He leaves behind four children, including Brian Rooney, who also works as a TV broadcaster.
© Copyright IBTimes 2023. All rights reserved.