Angola Is Moving Into Oil's Big Leagues As it Leaves Decades Of War Behind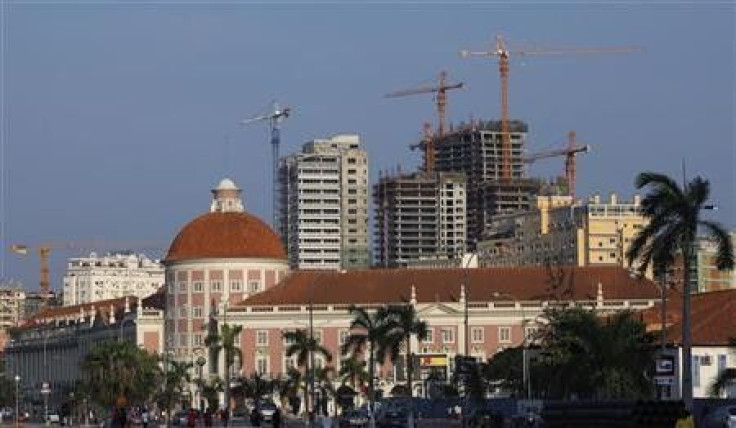 After decades of sporadic growth and political turmoil, Angola is on the verge of catapulting to the top ranks of the world's energy economy following major deep-water production investments by several top global oil companies.
On Monday, France's Total (NYSE:TOT) announced that it planned to proceed with a $16 billion ultra-deep-water project 160 miles off Angola's northern coast to begin production in 2017. About 185 pipelines located 6,200 feet beneath the ocean will connect 59 wells in six oil fields. Advances in drilling technology have enabled primarily large oil companies to produce oil and gas from reserves 4,000 to 5,000 feet underwater, an impossible task a mere generation ago.
Better known for its four decades-long civil war during the last century, the former Portuguese colony and now third-largest African economy, just behind Nigeria and South Africa, is touting optimistic production forecasts of 2 million barrels per day, or roughly 3 percent of world crude production in coming years.
That could drive the south-western African country ahead of its 2012 ranking as the world's 15th largest oil producer and ahead of Algeria, which produced 1.9 million barrels per day in that year. Angola pumped 1.8 million barrels a day in 2012, according to the U.S. Energy Information Administration.
Nigeria, Africa's largest oil producer, ranked 11th in the world and produced 2.5 million barrels per day in 2012, while the world's top oil producers Russia, Saudi Arabia and the U.S., produced more than 10 million barrels per day.
"With plans for frequent licensing rounds, including onshore and deep water rounds for 2014 and 2015, we expect Angola to retain its position as major destination for investment within the industry," according to a December MarketResearch.com report. "That said, regulatory changes and political risks remain trends given their potential to slow the busy pace of activity offshore."
Total accounted for 600,000 barrels a day production in 2013, a third of the country's production that year, according to the company, and has a 30 percent stake in Kaombo. Angolan national oil company Sonangol has 30 percent, Chinese-Angolan joint venture Sonangol Sinopec International holds 20 percent, Esso Exploration & Production Angola Ltd. and Portuguese company Galp Energia (GALP.LS) round out the partnership with 15 percent and 5 percent stakes, respectively. Angola exports 46 percent of its crude to China, according to EIA.
Total has 60 years of operating experience in Angola, which has 9.06 billion barrels in crude oil reserves according to OPEC, and Africa is already Total's highest -producing region. The country was Total's fifth-largest producer last year, behind Nigeria, the United Arab Emirates, Norway and Russia. It expects Kaombo will eventually produce a 230,000 barrel per day mix of light and heavy crudes, or about 13 percent of Angolan output.
U.S. oil giants ExxonMobil (NYSE: XOM) and Chevron Corp. (NYSE: CVX), as well as the UK's BP (NYSE: BP) and Angolan Sonangol operate other offshore oil projects in the country while Peru's PlusPetrol and private Angolan-owned Somoil operate two different onshore projects. The American firm Marathon Oil (NYSE: MRO), Italy's Eni (NYSE: ENI) and Brazilian firm Petrobras (NYSE: PBR) each own various stakes in projects there as well.
Chevron, which drilled its first well in Angola more than 50 years ago, told investors last week to expect lower first-quarter earnings this year compared to the fourth quarter due to foreign exchange losses and struggling assets, but Angola's LNG production, which began exporting to Brazil last year and is majority owned by Chevron (36.4 percent), helped offset the losses. Sonangol owns a 22.8 percent share, followed by Total (13.6 percent) and Eni (13.6 percent).
Total, Eni, Chevron and BP are planning to operate a combined nine new projects, not including Kaombo, beginning this year. Combined peak production would total nearly a million barrels per day, according to EIA data, beginning with Total's Cravo-Lirio-Orquidea-Voleta (CLOV) deep-water project to start production the second half of this year.
Angola's rise to the big leagues as the continent's No. 2 oil producer has not been without challenges.
Dependence on crude production leaves the country vulnerable to global oil prices. Despite an IMF-supported Sovereign Wealth Fund and positive outlook for the next few years, governance problems and a lack of other sector development will continue to challenge development and has some observers dubious.
"Virtually their entire export base is oil, and that's generally the concern with Angola, and there tend to be significant delays to when these projects actually start pumping oil," said Shilan Shah, Africa economist at Capital Economics. That's no small caveat because, "There isn't another country that's as reliant on one industry as Angola," he said.
Natural resources account for 95 percent of Angolan exports and more than 60 percent of Angola's $114 billion gross domestic product.
Though Nigeria exports more oil, the country is less dependent on the commodity thanks to a more diversified economy. When Nigerian officials rebased their GDP calculations earlier this year, the oil sector fell from 32.4 percent to just 14.4 percent of their economy, which is now dominated by the service sector.
The recent deal with Total represents a positive swing for now, but a few years away the heavy focus on oil could be a problem.
"Especially with these projects, there is going to be huge amounts of foreign direct investment into the country, but over the medium-term there's reason to be concerned," Shah said.
Angola's seen its economic promise stymied before. Between 2009 and 2011, GDP growth stagnated as global oil prices declined along with domestic production.
"The resulting drop in oil revenues impacted the non-oil economy through diminished private consumption, cuts to public spending and the accumulation of substantial arrears to domestic firms, particularly in the construction sector," according to the latest International Monetary Fund Angola Economic Update.
"Despite its favorable near-term outlook, Angola's reliance on oil revenues and imports leaves the economy highly vulnerable to economic shocks," the IMF report said.
FOR FREE to continue reading
✔️ Unlock the full content of International Business Times UK for free
offer available for a limited time only
✔️ Easily manage your Newsletters subscriptions and save your favourite articles
✔️ No payment method required
Already have an account?
Log in
© Copyright IBTimes 2023. All rights reserved.