Angola sees 2011 GDP growth lower than expected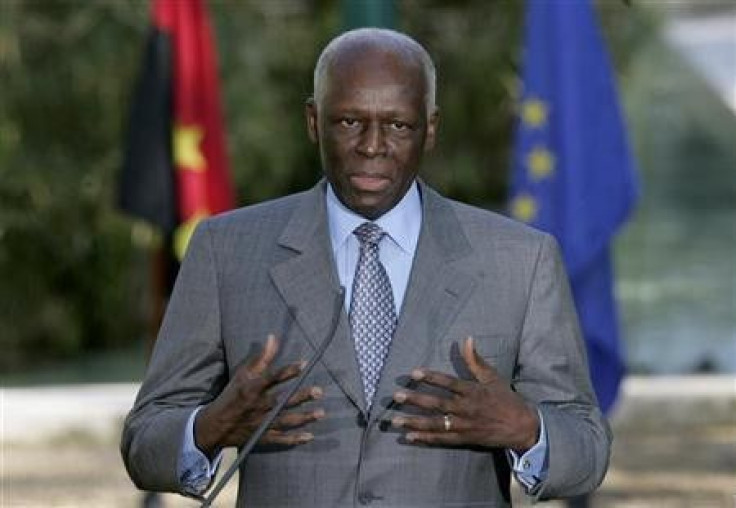 President Jose Eduardo Dos Santos cut Angola's growth forecast for 2011 to 3.7 percent on Tuesday due mainly to lower crude production but the economy should bounce back with a 12 percent expansion next year.
In a state of the nation speech broadcast by state television channel TPA, dos Santos slashed the gross domestic product growth forecast from a previous estimate of 7.6 percent after technical problems at an oil field operated by BP.
He said the decline in oil output was partly offset by growth in the non-oil sector and growth would still accelerate from last year's 3.4 percent.
His 2011 growth forecast was in line with that of the International Monetary Fund, which cut its projection to 3.7 percent from a previous forecast of 6.5 percent.
Oil has helped Angola become the third largest economy in sub-Sahara Africa, after South Africa and Nigeria.
Trade sources on Monday said Angola would export around 1.69 million barrels per day (bpd) of crude oil in December, down sharply from 1.84 million bpd originally scheduled to load in November.
Analysts expect Angola's oil output, which represents over 90 percent on its export revenues, to recover next year as oil fields come back on line and new projects begin production.
They say Angola can boost oil output to over 2 million barrels per day (bpd) next year and has the potential to overtake Africa's top oil producer, Nigeria.
SUCCESSOR FOR DOS SANTOS?
Oil has helped Angola pick up the pieces after a 27-year long civil war that ended in 2002 but reliance on the commodity leave the country vulnerable should oil prices decline sharply.
Dos Santos said the government's efforts to diversify the economy will produce significant revenue from 2013.
The downside risks to the growth forecasts are any further technical production problems and a possible drop in oil prices amid a slowing global economy, said Cristina Casalinho, chief economist at Banco BPI in Lisbon.
She said there was little evidence that diversification was bearing fruit.
There does not seem to be significant progress even though you hear about diversification projects all the time, she said.
In power for over 32 years, Dos Santos' regime has come under fire over its human rights record, blocking free speech and clamping down on dissent.
There is no basis for the assertion that there is a dictatorial regime in Angola ... On the contrary, there is a recent, but dynamic and participative democracy, Dos Santos said.
Speculation is rife that his rule may be about to end, with reports citing MPLA sources that he has selected Manuel Vicente, head of state oil company Sonangol, as his successor.
His regime has also faced unprecedented dissent from a youth movement this year, with several rallies organised to call for his resignation. One of the rallies in September ended in violent clashes and several arrests.
But his MPLA party -- which in 2002 won a 27-year civil war against UNITA and then won 82 percent of the vote in a 2008 general election -- is widely seen as favourite to win another general election in the third quarter of next year.
© Copyright Thomson Reuters 2023. All rights reserved.