Angry Birds Rio, Online, Barnes & Noble, iPhone -- Rovio Game is Red-Hot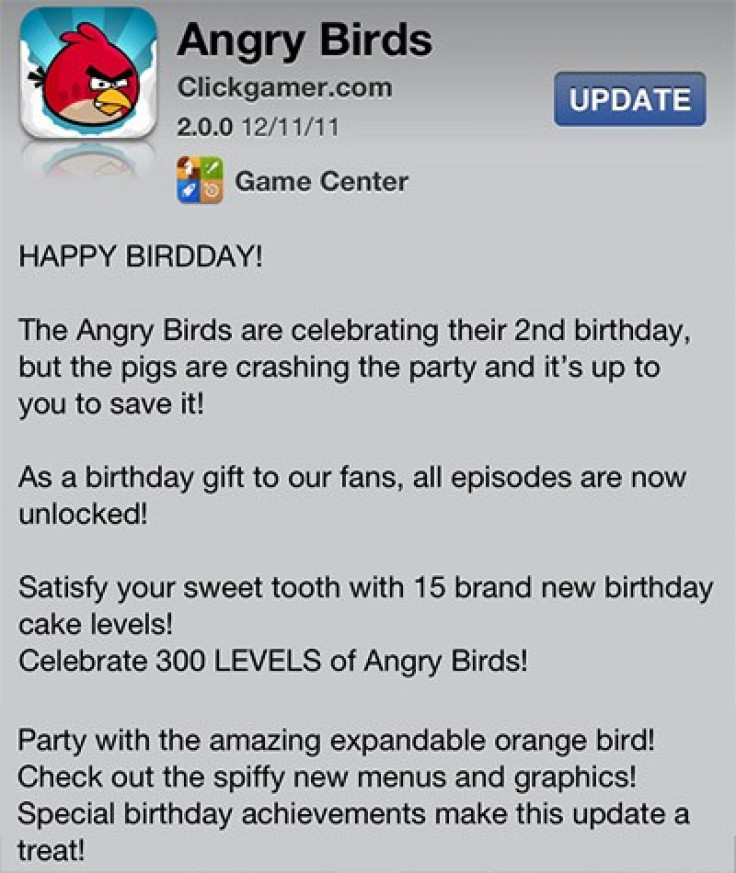 Angry Birds have having quite a run. The game, developed by Rovio Mobile, was just named the number one paid-for app bought from Apple's App Store in iTunes in 2011. Now, Rovio is offered a free upgrade today, Dec. 11, for iOS with 15 special levels in honor of the game's second birthday.
The upgrade will ulock all episodes of the Angry Birds game, so that anyone, regardless of their playing level, can see into the first level of each different episode.
As a birthday gift to our fans, all episodes are now unlocked! Satisfy your sweet tooth with 15 brand new birthday cake levels! Celebrate 300 LEVELS of Angry Birds! Rovio says.
Also on Dec. 11, Rovio is teaming up with America's largest bookseller, Barnes & Noble, from 11 a.m. to 3 p.m. for special events in stores, including scavenger hunts, high-score contests and more. The activity comes on the heels of Angry Birds being name the top app for iPhone and iPad users in 2011.
Two Angry Birds spin-offs, including Angry Birds Seasons and Angry Birds Rio, are also in the top 10 among the bestselling paid-for apps for iPhones in 2011. Angry Birds was the first game released for Apple's iOS system in December 2009, and since then it has sold millions of versions. Players of the game use a slingshot to launch the round, red, wingless birds at pigs on or within different structures with the aim of destroying all on the playing field.
Angry Birds is popular because of its addictive format, humorous concept and low price.
Facebook was the top free app for the iPhone in Apple's store thus far in 2011 for the iPhone, and Twitter, Skype and Groupon were also among the Top Free iPhone Apps.
Below are the most popular apps as chose by consumer demand at Apple's iTunes and App Store in 2011:
Top Paid iPhone Apps
1. Angry Birds
2. Fruit Ninja
3. Angry Birds Seasons
4. Cut the Rope
5. Tiny Wings
6. Angry Birds Rio
7. Words With Friends
8. Camera+
9. Doodle Jump
10. Plants vs. Zombies
Top Free iPhone Apps
1. Facebook
2. Pandora Radio
3. Words with Friends Free
4. Angry Birds Free
5. Skype
6. Netflix
7. Angry Birds Rio Free
8. Groupon
9. Fruit Ninja Lite
10. Twitter
Top Paid iPad Apps
1. Angry Birds HD
2. Pages
3. Angry Birds Seasons
4. GarageBand
5. Angry Birds Rio HD
6. Penultimate
7. Fruit Ninja HD
8. Cut the Rope HD
9. SCRABBLE for iPad
10. Keynote
Top Free iPad Apps
1. Angry Birds HD Free
2. The Weather Channel for iPad
3. Netflix
4. CNN App for iPad
5. Angry Birds Rio HD Free
6. Kindle
7. Skype for iPad
8. Calculator for iPad Free
9. Pandora Radio
10. Calculator Pro for iPad Free
© Copyright IBTimes 2023. All rights reserved.