Annie Zhang's Quest To Level The Playing Field for New Startups and Job Applicants With Hirect
Hiring in the current climate that economists have dubbed as the "Great Resignation" has proven to be a mammoth task.

Innovators like Annie Zhang from Hirect are deploying new methods and technology to counter recruitment difficulties.
Hiring in the current climate that economists have dubbed as the " Great Resignation " has proven to be a mammoth task. Typical signs of the market becoming hyper-competitive include government agencies competing with tech companies to improve retention measures, with some companies even compromising on quality to fill key positions. Indeed the increase in job vacancies is worrying for the economy. Yet with many challenges, comes opportunity as can be seen in the case of smart recruitment platforms.
One software product manager who is rising to the challenge is Annie Zhang. She grew up with a passion for technology. During her studies, she also developed a love of business and product management. As a kind and caring soul, her pursuits were never in vain. In fact, she always dreamed of using technology to help improve the lives of others. The first step was finding which specific pain point she could solve best with her skills and experience.
Finding a job is undeniably one of the most painstaking and tiresome processes, and yet it is an absolutely essential part of the human experience. The pressures are multi-faceted – finances, self-worth, social acceptance, reputation and career advancement – just to name a few. As a result, emotions can run amok and it is easy to feel defeated and overwhelmed.
The challenge:
According to TopResume.com, the average job search in the U.S. takes around 5 months. The process requires dedication and patience, not only from the job seeker but also from the individuals or businesses that are hiring. The tech industry in particular has also become highly competitive. And while the increase of remote working options has brought much more flexibility, it also means that the competition for a position has broadened from local to global.
For up and coming startup companies, the challenge is even greater because they struggle to make themselves visible to the right people. Traditional job listings platforms are skewed towards the biggest companies that can invest the most money into making themselves seen.
Although Annie was very fortunate to find a job in the US after graduating as an international student, she witnessed so many of her friends suffering through the process and became passionate about creating a solution. She found that the primary issue was networking, because most of her friends were well educated but did not yet have strong relationships in the US, and could not make connections to potential job openings from their limited resources. It then became her mission to solve this problem with Hirect.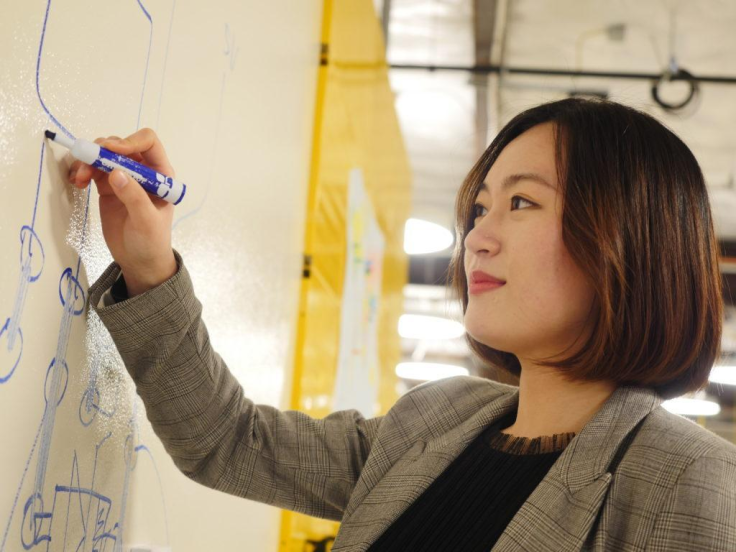 How Hirect Seeks To Contribute To Industry Solutions:
Hirect is a chat-based direct hiring platform that is transforming the job hiring industry by connecting tech startup recruiters, hiring managers, and decision-makers to job seekers from the very beginning. Using their own proprietary algorithm to match candidates and recruiters, the platform facilitates instant chatting and video calls. The fast connection eliminates the wasted time of emailing back and forth, while allowing both parties to gain more clarity on their positions right off the bat.
For recruiters, the opportunity to exchange dialogue with a potential candidate before investing precious time into a thorough interview will help weed out a great deal of ill-fitting individuals. Far too often, applicants have a stellar resume or excel on a job application form, but then present as inexperienced, awkward or of poor temperament. Another huge benefit is that all job listings are considered equal – in contrast to most platforms which rank listings by financial investment. This means that as a young startup, you can actually reach highly qualified candidates without having to break the bank. Furthermore, as a mobile-first platform that uses asynchronous communication, there is a convenient and open line of communication without putting added pressure on recruiters to follow up within a specific time frame.
For those seeking a job, the platform not only provides more open communication, but also helps to bridge the gap of networking. In particular for those new to the job market, lacking experience also means lacking valuable connections. With most popular job seeking platforms, job listings are usually dominated by the top-ranked companies as they utilize a paid ranking model. Of course, larger companies can afford to pay top dollar to have their listings at prime visibility, which leaves new and small companies buried at the bottom. However, money isn't everything and, in reality, early-stage companies often have a lot more growth and opportunity to offer to applicants than a huge well-established corporation would. The big benefit for job seekers is they can directly chat with the recruiters, and get an instant reply from them in just a matter of seconds, compared to the intransparent and traditional application procedure.
The Heart Behind Hirect
Although it first launched in India in 2019, with a different name and slightly different purpose, Hirect has found its greatest market in the US given the unique journey of its founder and product manager Zhang. She recognized that the current job listing platforms were falling short and were dominated by the wealthiest and most well-known companies. Fundamentally, she saw this as an immense opportunity to create something better, in particular to help connect early startup companies with the new talent that they require to be successful.
Zhang shares that "In accordance with helping people to live a better life, solving their problems in finding a dream career is one key component. We spend most of our life working, we should do things we love – and with the right people."
Her passion has been the driving force behind Hirect and its product, as she is committed to modernizing our approach to job hunting. Hirect cuts the timeline down from months or weeks to just days. Not only has the platform been hugely successful for both recruiters and candidates, Annie herself has hired many of her own employees using Hirect.
"We want to connect job seekers with startup founders, business owners, and the dream leaders and builders who can understand their needs and exchange work assets directly. It's not only about making the process faster, but also making it a closer match of real demands between people," she explains.
Just like Linkedin, Indeed and other solutions, Hirect is simple, direct and fast - with its own value proposition. With such immense diversity, the US job market demands tools to help create connections far and wide. And, of course, the hustling lifestyle of US culture actually values time over anything else.
FOR FREE to continue reading
✔️ Unlock the full content of International Business Times UK for free
offer available for a limited time only
✔️ Easily manage your Newsletters subscriptions and save your favourite articles
✔️ No payment method required
Already have an account? Log in
© Copyright IBTimes 2023. All rights reserved.