Another Toilet Paper Shortage? Stores Prep For Second Stockpiling Wind
The limits on essential items such as toilet paper, paper towels, and disinfectant wipes are back as retailers across the U.S. prepare for the second wave of hoarding.
The move by retailers is an attempt to ensure shelves stay stocked as cases of the coronavirus surge in the Midwest and South as experts predict that a second wave, and possibly a third, of coronavirus will hit the U.S. this fall and winter.
The U.S has reported over 9.6 million positive cases of the coronavirus with over 235,000 COVID-19 deaths, according to Johns Hopkins University data. The United States of America leads the world in coronavirus cases and COVID-19 deaths.
As the numbers of coronavirus cases increases, grocery chains such as Kroger began limiting customer purchases of toilet paper, paper towels, disinfecting wipes, and hand soaps to a maximum of two earlier this week in-stores and online, CNN reported.
The move by Kroger is reminiscent of limitations implemented during the first wave of the virus, which caused mass panic in consumers that stocked massive piles of toilet paper, cleaning supplies, and hand sanitizers along with other home essentials. Shelves were left bare of many items, leaving many retailers to limit product quantities and offer dedicated senior hours to ensure all customers were able to purchase the products they needed.
Grocery chain Giant also started limiting the amount of toilet paper and paper towel purchased by consumers last week. Giant customers are now allowed one larger toilet paper and paper towel and four smaller toilet paper and paper towel products, CNN said.
In Texas, H-E-B has implemented limits on the purchase of disinfectant and antibacterial sprays as well as toilet paper and paper towels at some stores to two, the news outlet said. Costco has also said that it has implemented limits on certain items to ensure more members are able to purchase the items they want and need.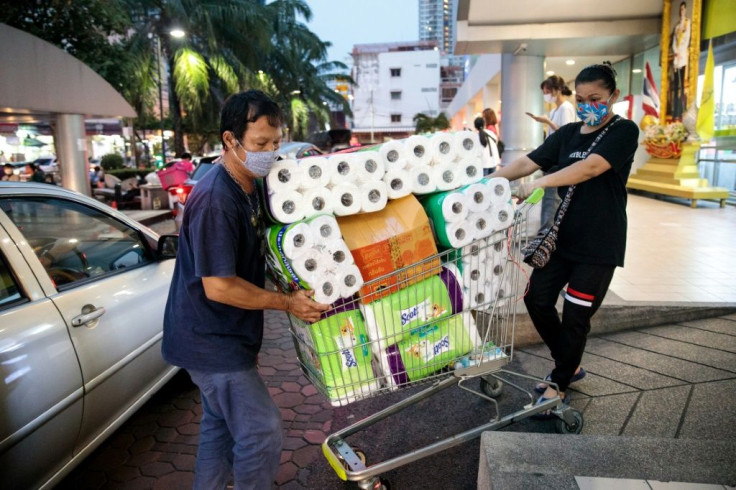 © Copyright IBTimes 2023. All rights reserved.
FOLLOW MORE IBT NEWS ON THE BELOW CHANNELS