Antony Blinken In China: More Meetings Secured But Update On Actual Agenda Vague
KEY POINTS
The State Department's readout didn't provide details about which "issues of concern" Blinken raised
Blinken was supposed to discuss the fentanyl crisis and the Americans detained in China, among other topics
Biden has said he hopes to meet Xi again after their November 2022 meeting in Bali
Secretary of State Antony Blinken was able to speak with Chinese Foreign Minister Qin Gang and China's top diplomat Wang Yi before his scheduled meeting with Chinese President Xi Jinping on Monday, but details remain scarce about whether he was able to raise most of the concerns he originally planned on bringing to the table.
The Office of the Spokesperson for the U.S. Department of State said in a statement that Blinken and Qin "held candid, substantive and constructive talks." Both officials agreed on the importance of communicating "to reduce the risk of misperception and miscalculation."
Blinken invited Qin to Washington to continue their talks "and they agreed to schedule a reciprocal visit at a mutually suitable time."
While the state department noted that Blinken "raised a number of issues of concern," the lack of details on which issues were discussed suggested that there may not have been much progress in Blinken's agenda items for his China visit, as per Politico.
Chinese state media reported that the "nearly six-hour" discussion between Blinken and Qin tackled Taiwan, with Qin reiterating that Taiwan was "the core of China's core interests" and was "the most prominent risk in China-U.S. relations."
Daniel Kritenbrink, assistant secretary of state for East Asian and Pacific affairs, previously said Blinken's China trip would focus on discussing White House concerns "on a range of issues" and "a host of regional and global security matters," according to CNN.
Kurt Campbell, deputy assistant to the president and coordinator for Indo-Pacific affairs, also said Blinken's agenda included raising U.S. concerns over "China's policy toward Ukraine and its engagement with Russia."
Another issue that Blinken was supposed to raise with Chinese officials was the detainment of Americans in China, which the U.S. said was unjust.
Blinken was also expected to open talks about China's supposed role in the country's fentanyl crisis.
On his third and final day in China, Blinken was able to discuss Taiwan with Wang. Officials revealed that Blinken spoke with Wang for three hours at the Diaoyutai State Guesthouse in Beijing on Monday, Reuters reported.
Wang reportedly told Blinken that "China has no room for compromise or concessions" when it comes to the topic of Taiwan."
A readout from Chinese state broadcaster CCTV noted that Wang blamed the U.S. government's "wrong perception" of China as the "root cause" of the declining relations between the world's two largest economies. He also reportedly demanded that the U.S. stop "suppressing" China's technological ascent.
Hopes have been low about the progress the trip may bring. On the other hand, the trip is expected to pave the way for possible visits by U.S. Treasury Secretary Janet Yellen and Commerce Secretary Gina Raimondo to China.
Blinken was originally scheduled to visit China in February, but plans were derailed by a suspected Chinese spy balloon that flew over South Carolina. A U.S. fighter jet shot down the said surveillance balloon, triggering tensions between the two economic powerhouses.
A State Department official confirmed that Blinken would meet with Chinese President Xi Jinping at 4:30 p.m. local time (4:30 a.m. EDT), as per CNBC.
Blinken has been the highest-level U.S. official to make a state visit to China since President Joe Biden came into office. He is also the first secretary of state to have made a China trip in five years.
Biden has said he hopes to meet Xi again in the coming months after the two leaders met in Bali, Indonesia in mid-November 2022.
"The two leaders agreed to empower key senior officials to maintain communication and deepen constructive efforts on these and other issues," according to a readout from the White House.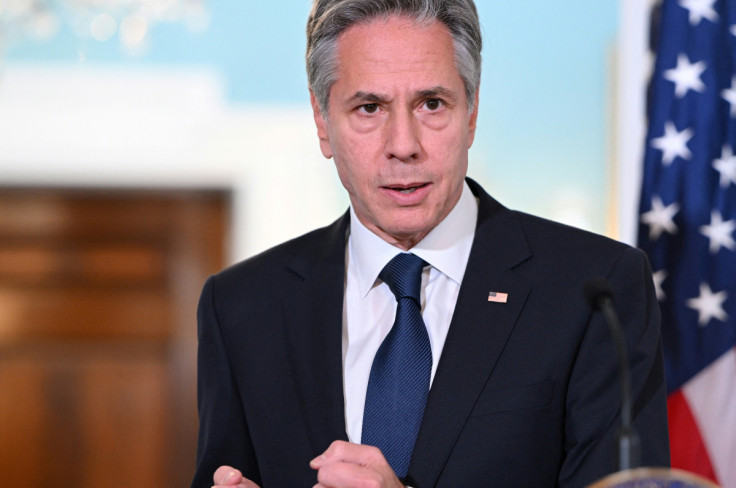 © Copyright IBTimes 2023. All rights reserved.