AnTuTu's Top 10 Android Smartphones Of Q3 2015 List Is Here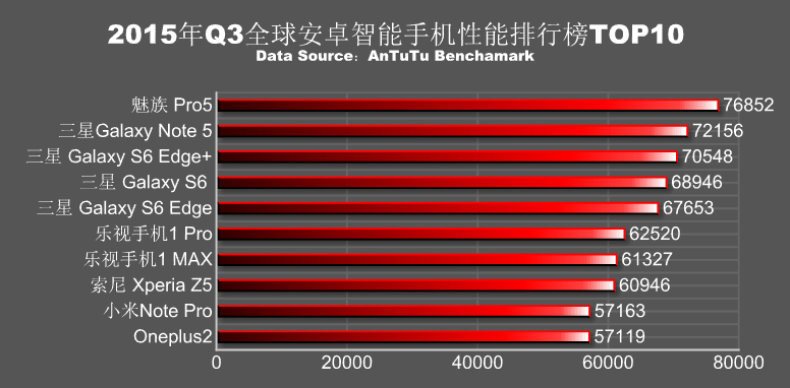 AnTuTu is back with the quarterly list of top 10 fastest Android smartphones. A surprise entry has scaled the top numero uno spot, followed by many Samsung handsets, among others.
Going by the AnTuTu benchmark test results for the third quarter of 2015, the brand new flagship smartphone "Meizu Pro 5" powered by Samsung's Exynos 7420 has beaten other counterparts to take the top rank. This device features 1080p screen resolution, unlike the other top 5 handsets that come with 1440p QHD resolution. The brilliant Meizu Pro 5 reportedly scored a whopping 76,852 points in AnTuTu testing.
In case readers would like to purchase the Meizu Pro 5 in the U.S., OppoMart has listed the device for $499. This handset comes with 5.7-inch display, 3 GB RAM, 21-megapixel rear-facing camera unit and 32 GB of native storage. The Silver variant of this smartphone is now available in stock.
Following the Meizu handset, the Samsung Galaxy Note 5 takes the second spot with an amazing 72,156 points. The rest of the top 5 spots have been filled with the Galaxy S6 series of handsets released this year. This includes the flagship Galaxy S6, the dual-curved-display variant Galaxy S6 Edge and the jumbo model Galaxy S6 Edge+.
Here is the list of top 10 Android phones in Q3 2015:
Meizu Pro 5 - 76,852
Samsung Galaxy Note 5 - 72,156
Samsung Galaxy S6 - 70,548
Samsung Galaxy S6 Edge - 68,946
Samsung Galaxy S6 Edge+ - 67,653
Letv 1 Pro - 62,520
Letv 1 Max - 61,327
Sony Xperia Z5 - 60,946
Xiaomi Mi Note Pro - 57,163
OnePlus 2 - 57,119
It is worth noting that, all the handsets that are part of the top 5 rankings come powered by Samsung's Exynos 7420 chipset, manufactured by the now-famous 14 nm process. The handsets from rank 6 to 10 are powered by Qualcomm's Snapdragon 810 chipset, Phone Arena reported.
© Copyright IBTimes 2022. All rights reserved.