Apple blocks Samsung's Galaxy tablet in EU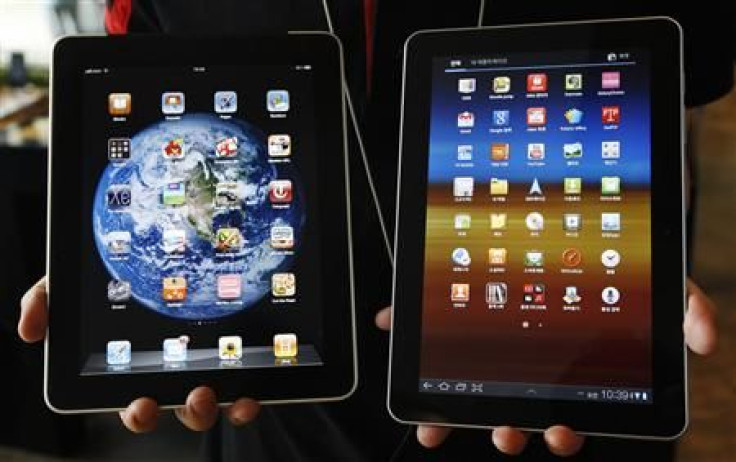 A German court has temporarily barred Samsung Electronics from selling its flagship Galaxy tablet in most of the European Union in a significant victory for market leader Apple Inc.
In a global intellectual property battle, Apple has said the Galaxy line of mobile phones and tablets "slavishly" copied the iPhone and iPad, and it has sued the Korean firm in the United States, Australia and elsewhere.
Samsung, whose tablets are based on Google Inc's Android software, has countersued Apple.
The German court order comes a week after Samsung was forced to delay the Australian launch of its latest tablet because of a separate lawsuit alleging Samsung infringed a number of Apple's patents.
Samsung products already distributed prior to the injunction on August 9 may still be sold and the company said it does not expect an immediate impact on sales.
UK retailer Dixon's said the company has so far received no legal instructions to remove the Galaxy tablet from stores, while Telefonica Germany can sell devices it still has in stores.
"It's no coincidence that Samsung's latest products look a lot like the iPhone and iPad, from the shape of the hardware to the user interface and even the packaging," said Apple's London-based spokesman Adam Howorth. "This kind of blatant copying is wrong, and we need to protect Apple's intellectual property when companies steal our ideas."
Intellectual property rights are granted by an agency of the European Union and can therefore be enforced on an EU-wide basis, patent-expert Florian Mueller said.
Apple did well to choose the Duesseldorf based court because it is known to be well disposed toward rights holders, said Jorma Hein, a lawyer specializing in intellectual property rights.
Separate hearings are scheduled in The Hague in the Netherlands for Wednesday and Thursday. Experts said it was likely that Apple was seeking an import stop in the Netherlands because it is home to Rotterdam, Europe's biggest port.
Samsung's mobile unit, which includes handsets and tablet PCs, generated 30 percent of the technology giant's revenue in the second quarter.
RIGOROUS Defense
Samsung, the world's biggest technology company by revenues, said it would challenge the court decision. "We will rigorously defend our position," Younghee Lee, senior vice president of global marketing at Samsung's mobile business, told Reuters.
Lee said Samsung would launch a slightly altered version of the tablet in Australia next month. Samsung Germany said it would file an objection immediately with the court.
Once Samsung takes the measure, a court hearing will be scheduled, shortly followed by a ruling, a judge at the Duesseldorf court said.
Samsung has been locked in a battle with Apple over smartphone and tablet patents since April. The Galaxy gadgets are seen as among the biggest challengers to Apple's mobile devices, which have achieved runaway success.
Apple sold 14 million iPads in the first half of this year worldwide, compared with analysts' sales estimates of about 7.5 million units for the Galaxy Tab over 2011.
Android backers may look for products from other companies. "Many potential Galaxy Tab purchasers are committed Android fans," said Tim Renowden, analyst for research firm Ovum.
The likes of ASUS, Toshiba, Acer, HTC among others, could benefit, he said in part as purchasers are likely to look for alternatives that run on the same operating system.
Industry executives said Samsung could launch a new variation of the Galaxy Tab 10.1 to get it on sale in Europe or settle the dispute by paying royalties to Apple.
"This will be an issue that will get settled between the two companies. Some deal will likely get made and then they will move on," said Peter Elston, Asia strategist at Aberdeen Asset Management Asia, which owns Samsung shares.
© Copyright Thomson Reuters 2023. All rights reserved.