Apple Chief Design Guru Sir Jonathan Ive Slams Rivals for Having Wrong Goals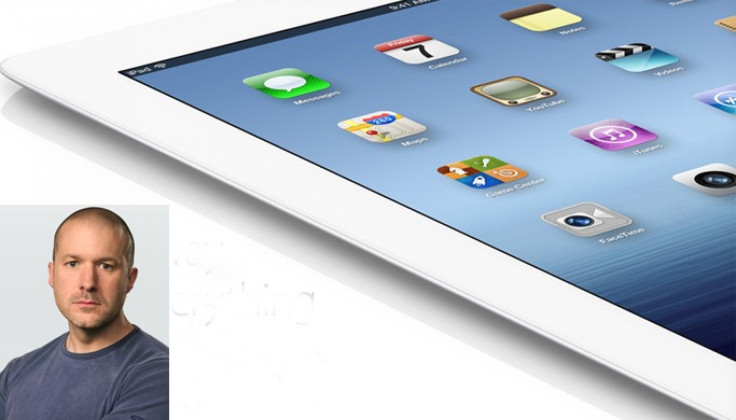 Apple's chief design guru Sir Jonathan Ive - rarely goes for an interview. But this time, Thisislondon's editor Mark Prigg was lucky as he got successful in interviewing the knighted British designer. In the interview, Ive criticized rivals for having "wrong goals," besides sharing what makes Apple products so "Apple."
Jonathan Ive, who is working as senior vice president of industrial design at Apple, is the man behind the design of iPhone, iPad, iPod, iMac, MacBook and other numerous Apple products. He has been working in Apple since 1996 and rarely does interviews with press reporters. In the rare interview published at ThisIsLondon Web site, Sir Jonathan Ive reveals Apple's trade secrets. He believes simplicity should not be mistaken as absence of clutter.
"Most of our competitors are interested in doing something different, or want to appear new – I think those are completely the wrong goals" said the 45-year old Apple designer. According to Ive, Apple rivals are busy at doing something different rather than solving basic problems.
If we take a sneak-peek at Apple's record, its iProducts have received software updates quickly after the release of a new version of operating system. Taking example of iOS 5.1, Apple's old iPads (original and second generation) and iPhone 3GS/4/4S received the iOS 5.1 update within hours after the tech giant revealed iOS 5.1 along with the new iPad. On the other hand, Google's dearest Ice Cream Sandwich is out for months and so far few Android phone or tablet manufacturers have succeeded in giving any ICS update to their devices. Android phones users are still waiting for the brand new ICS update while manufacturers are busy launching new smartphones. Even big player like Galaxy S2 are running Android v2.3 Gingerbread at the moment.
While rivals are releasing a new smartphone or tablet or laptop regularly, Apple stays away from the ongoing trend. The period between its releases is the reason behind Apple's success in creating marvelous products. And this is the same reason why rival tablets fail to match the novelty of iPad, Ive shared.
"A product has to be genuinely better. This requires discipline, and that's what drives us, and it's not about price, schedule or a bizarre marketing goal to appear different – they are corporate goals with scant regard for people who use the product," he said.
According to Ive, a great design is about focus, simplicity and emotion. In other words, Apple?
(reported by Johnny Wills, edited by Surojit Chatterjee)
© Copyright IBTimes 2023. All rights reserved.