Apple Earnings Q4: Despite Pedestrian Quarter, Holiday Sales Boost Exected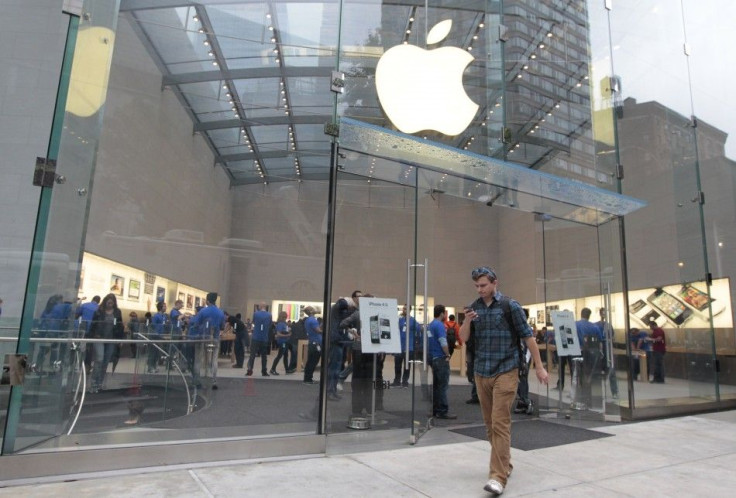 After its successful product launch two days ago, Apple (Nasdaq: AAPL) reported its fourth- quarter fiscal results through Sept. 29 on Thursday. The Cupertino, Calif.-based company had hoped to post strong year-over-year growth in all its key product lines, particularly the iPhone and iPad, but investors were worried that light sales could eat into the company's margins. And that's exactly what happened.
Apple's Q4 2012 earnings fell below Wall Street's estimates, with the company reporting quarterly fiscal Q4 income of $8.2 billion, or $8.67 a share, which was up from $6.62 billion ($7.05 a share) in Q4 2011. Wall Street analysts expected earnings per share to reach $8.91, while Apple conservatively predicted $7.65.
Apple's stock has taken a small hit recently after months of continued growth that saw shares peak around $705 in early September. On Thursday, after reaching $621 early in the day, company shares fell precipitously but managed to recover slightly at around $609 by market close, dipping again to $600 in after-hours trading.
Apple's revenue jumped by 27 percent to $36 billion in Q4; Wall Street originally expected Apple to report $36.27 billion in revenue, while Apple forecast $34 billion in revenue, with the majority of that cash flow coming from the iPhone and iPad. Last quarter, those two iDevices accounted for 72 percent of Apple's overall revenue.
The vast majority of Apple's Q4 revenue was expected to come from the iPhone, even though the iPhone 5 was released just days before the quarter ended Sept. 29. After going on sale Sept. 21, Apple reported selling more than 5 million iPhone 5 units in its first weekend. Apple will report how many iPhone 5s it sold in the final six days of the quarter.
"Demand for iPhone 5 has been incredible and we are working hard to get an iPhone 5 into the hands of every customer who wants one as quickly as possible," said Apple CEO Tim Cook in a Sept. 24 press release.
Apple reported selling 26.9 million iPhone units in Q4 2012, which actually beat Wall Street's expectations of 25 million iPhone units, close to the number of iPhones sold in all of Q3, and up roughly 46 percent from Q4 2011.
As for the iPad, Apple reported selling 14 million iPad units for the quarter. Wall Street expected Apple to sell between 17 million and 18 million iPads, but at the company's iPad Mini unveiling on Tuesday, Cook said Apple had already sold 100 million iPads cumulatively. Doing the math, this meant that Apple would have sold slightly less than 16 million iPad units in Q4, which ended up proving accurate.
Shaw Wu, analyst at Sterne Agee, told CNET the 16 million mark was roughly consistent with his supplier checks, "indicating lower build plans ahead of iPad Mini."
"To be conservative, we are trimming our estimate to 15.8 million units," Wu added.
Wu should have been even more conservative.
Gearing Up For The Holidays
While Apple's earnings are nothing surprising – good or bad -- most analysts are looking ahead to Q1 2013 earnings, which will be the first quarter to include sales from the company's latest and greatest consumer devices, including the iPhone 5, fifth-generation iPod Touch, seventh-generation iPod Nano, fourth-generation iPad, 13-inch Retina MacBook, newly updated Mac Mini, redesigned iMac and iPad Mini.
For the December quarter, Apple has projected earnings per share to reach $11.75, with overall revenue reaching $52 billion. Wall Street expects earnings of $15.41 per share on revenue of $55 billion for the quarter.
Mark Moskowitz, an analyst at JP Morgan, told investors on Wednesday that next quarter's earnings will be the first true test of Apple's latest product cycle.
"Our view is that September quarter numbers do not matter," Moskowitz said. "Apple can miss or beat. It does not matter. In our view, the two important iPhone and iPad launches set the stage for big numbers to be reported in late January 2013 as relates to December quarter results."
© Copyright IBTimes 2023. All rights reserved.