Apple iPad Mini Release Date Nears: Why Its New Features And Specs Aren't Worth The Price
Opinion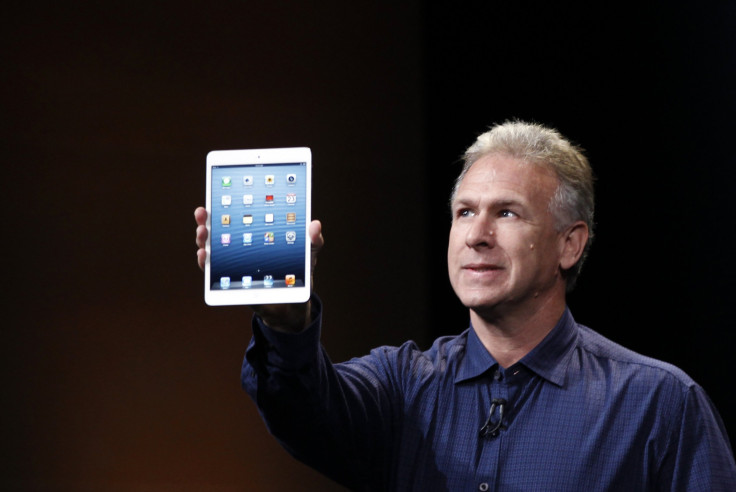 At the company's media event in San Jose on Tuesday morning, Apple's senior VP of marketing, Phil Schiller, took the stage in front of a packed house at the California Theatre to introduce the long-awaited 7.9-inch iPad Mini.
"So what can you do with an iPad Mini that you can't do with an iPad?" Schiller asked the crowd. "You can hold it with one hand."
The iPad Mini weighs just 0.68 pounds -- as light as a notepad -- and measures just 7.2 mm thick -- roughly the thinness of a pencil.
After explaining everything the iPad Mini can do, Schiller announced that Apple planned to start selling a Wi-Fi version of the new device for $329, while an iPad with "cellular" capabilities started at the $459 price point.
Many consumers and fans were extremely disappointed with Apple's asking price for the iPad Mini; in fact, company shares dropped $8 the very instant Apple announced the price of the iPad Mini.
The $329 tag shouldn't have been too much a surprise -- Apple always sells its iOS and Mac products at luxury prices -- and they still manage to be bestsellers in their respective categories -- but many hoped Apple would price the tablet somewhere between $249 and $299 to stay competitive with the growing number of tablet rivals out there.
Schiller defended the price of the iPad Mini's price to Reuters on Tuesday.
"The iPad is far and away the most successful product in its category. The most affordable product we've made so far was $399, and people were choosing that over those devices," Schiller said. "And now you can get a device that's even more affordable at $329 in this great new form, and I think a lot of customers are going to be very excited about that."
Even though a $329 iPad Mini will certainly sell, many wanted Apple to sell the new tablet at its competitors' price points. Amazon, Google and Barnes & Noble all now sell their respective Kindle Fire, Nexus 7 and Nook tablets for $199, respectively; if the iPad Mini cost $299, $249 or even at that exact $199 price, it would simply blow its rivals out of the water.
However, since Apple won't be lowering the iPad Mini price anytime soon, the best thing consumers can do is decide whether or not $329 is worth a 16GB iPad Mini with Wi-Fi only capabilities. And while the tablet is a beauty, it's just not worth that kind of money.
Let's take a look at the iPad Mini's pricing tiers, shall we?
For the Wi-Fi-only models, Apple sells 16GB of storage for $329, 32GB for $429 and 64GB for $529. For users that want to leverage the cellular networks as well, Apple sells those separate models starting at $459 for 16GB, $559 for 32GB and $659 for 64GB.
What's slightly insane about this pricing is that the fourth-generation iPad with Retina Display, an absolute powerhouse, starts at $499, which is just $70 more than the 32GB Wi-Fi iPad Mini, or $40 more than the 16GB cellular iPad Mini. In other words, for the same amount of space, you could shell out an extra $40 to buy a full-sized iPad, which is leagues beyond the iPad Mini in terms of speed, power and display resolution.
And while the iPad Mini is certainly cute and portable, those features aren't enough to warrant the steep price. The iPad Mini is powered by Apple's dual-core A5 chip, which was "fast" back in 2011 but sluggish now compared to the A5X chip, A6 chip and all-new A6X chip released over the past year. The iPad Mini doesn't need a lot of power to function -- the iPad 2 manages just fine with the A5 chip -- but the specs of the iPad 2 simply don't compare to where technology is currently.
The iPad Mini isn't too fast internally and not too fast externally since it lacks LTE, and, maybe most importantly, it isn't the most attractive tablet out there. The iPad Mini's display features the same 1024 x 768 resolution of the iPad 2, and, while the pixels aren't nearly as cloudy as they look in the iPad 2 since they're squeezed into a smaller frame, the iPad Mini does not have a Retina Display. A tablet's display is everything to the overall experience, which is why third-generation iPad owners say it's impossible to go back to the iPad 2; unfortunately, when consumer standards expect greatness every time, anything less than a Retina Display simply isn't desirable.
Apple will eventually fix all of the issues in the iPad Mini, from its slower processors to its display quality and resolution, but at the moment, its features are simply not worth the price. But not to worry, fellow consumers: Given Apple's increasingly short innovation cycles, we might expect an updated iPad Mini by summer 2013.
© Copyright IBTimes 2023. All rights reserved.