Apple Holiday Gift Guide 2014: 12 Ideas For The iPad, iPhone And MacBook Pro User Who Has Everything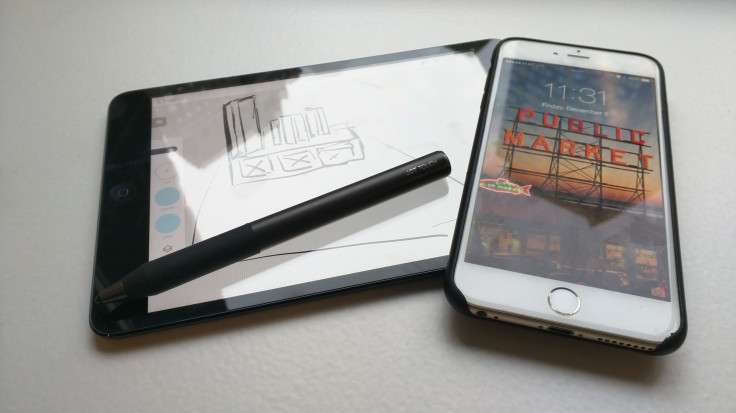 Chances are the Apple lovers in your life have just about every product from the iPhone to the iPad. But that doesn't mean shopping for them has to be difficult. From cases to headphones to gloves, there's plenty of accessories and gadgets on the market to make the Apple product experience even better. Here are 12 gift ideas for the Apple owner covering a range of price points to fit any holiday-buying budget:
Under $50
Touch-screen gloves $7.99 Sometimes you want to use your iPhone while keeping your hands warm. And these stocking stuffers are a great way for iPhone (or any other smartphone) user to answer a call, browse the Web or send a text, without freezing their digits.
Spigen Air Cushion case for iPhone 6 $12.99 Owners of the iPhone 6 looking to show off its Space Grey, Silver or Gold back can continue to do so while protecting their investment with the Spigen Air Cushion. The case features a clear design leaving the back fully in view while protecting the entire phone. For a couple dollars more, you can get the case in another color, such as champagne gold, gunmetal and mint.
Apple iPhone 6 leather case $45.00 Though Apple's in-house iPhone 6 case isn't the cheapest choice, it's certainly one of the thinnest cases on the market. And with its leather design, which naturally changes color over time, it's a stylish option for those looking to protect their iPhone while maintaining its thin profile.
Rain Design mStand $49.95 For the MacBook owner who uses her laptop on the go as well as in the office, the aluminum mStand allows her to turn it into a full workstation. All she needs is her own keyboard and mouse and she's good to go.
Under $100
Olloclip 4-in-1 Lens for iPhone 6 and 6 Plus $79.95 Expand the sights of the iPhone 6 and 6 Plus with the Olloclip lens, which comes with four different lenses: fish-eye, wide-angle, 10x macro and 15x macro, so you can capture the big picture or zoom in to the finest details with the iPhone's camera.
Adonit Jot Touch $99.99 For the iPad artist in your life, the Adonit Jot Touch is a must-have. Unlike other stylus solutions that use a soft rubber tip, the Jot Touch packs a pressure-sensitive hard tip and connects to the iPad over a Bluetooth connection.
A number of apps support its pressure-sensitive features, such as Adobe Illustrator Line, Photoshop Sketch and Evernote Penultimate. Other features include palm rejection, so its user can lean on the iPad like a real notepad. The battery lasts up to 11 hours and takes 1.5 hours to charge through an included USB dongle.
Logitech ultrathin keyboard folio for iPad Mini $99.95 Sometimes you need a physical keyboard to get things done on the iPad Mini. and Logitech makes it much easier with its ultrathin folio case keyboard. When it's not being used, the case folds over the iPad and becomes a handy cover so it's ready when you next need it.
Under $200
SMS Audio BioSport in-ear headphones $149.95 In partnership with Intel, 50 Cent and Carmelo Anthony's SMS Audio has developed a new in-ear headset that lets you listen to music while keeping track of your heart rate with a built-in sensor. And it's compatible with a number of fitness apps, such as Runkeeper, which integrates with Apple's Health platform.
Michael Kors crossbody case $149.95 The Michael Kors crossbody case combines an iPhone case with the design of a leather clutch wallet. It features a dedicated zip section for an iPhone and has pockets for other uses as well. The case fits the iPhone 5 through iPhone 6 Plus.
JayBird BlueBuds X earbuds $169.95 For the iPhone owner who loves listening to music on the go, the JayBird BlueBuds eliminate most of the wires traditionally associated with headphones and earbuds. Instead, it connects to just about any iOS device through Bluetooth and has an eight-hour runtime, enough to last for most commutes or a few fitness runs.
$200 and above
Parrot AR Drone 2.0 Elite Edition $299.95 Those with ambitions for flight can get a taste of it through the Parrot AR.Drone 2.0, which features a built-in camera and can be entirely controlled with your iPhone, iPad or iPod Touch. And for less-experienced pilots, it features a beginner mode as well as an autopilot mode to make the flight experience easier.
Pioneer DDJ-WEGO 3 $299 For the DJ looking to thin out his rig, the Pioneer DDJ-WEGO3 enables spinning tracks on the go using just iOS devices while providing physical access to mixer controls. It also integrates with a number of apps such as Virtual DJ, Serato DJ Intro and dJay 2.
© Copyright IBTimes 2023. All rights reserved.