Apple iOS 8 Now Installed On 52% Of Active iOS Devices
Apple's iOS 8, the latest major upgrade to the company's mobile operating system, is now installed on more than half of all active iOS devices, according to an update on Apple's App Store support page for developers. The iOS 8, which received a firmware update last week to take the version to iOS 8.1, was released on Sept. 17.
The update on the support page shows that iOS 8 currently runs on 52 percent of all iOS devices within only five-and-a-half weeks of its release. Apple CEO Tim Cook said during the company's Oct. 16 iPad event that the new OS was installed on 48 percent of devices as of Oct. 13. On Sept. 21, the company had said that iOS 8 was installed on 46 percent of devices. In comparison, the iOS 7 currently runs on 43 percent of devices. The remaining 5 percent of Apple devices have earlier versions of the iOS installed.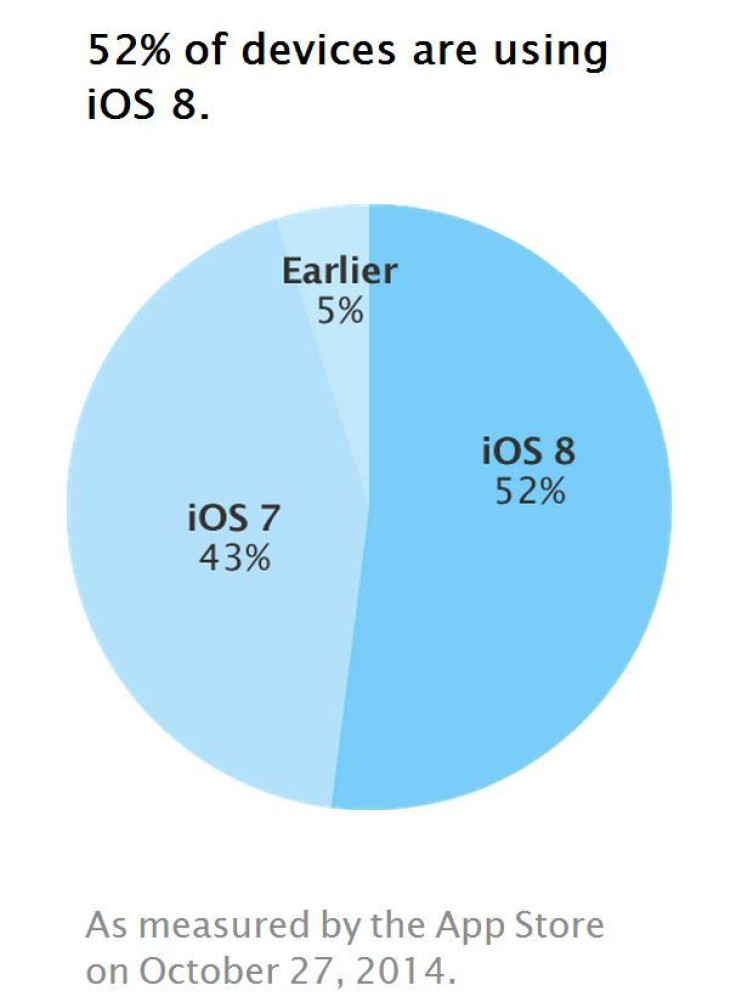 The increase in iOS 8 installations follows the roll-out of the iOS 8.1 update, which introduced many new features to the platform, including Apple Pay, Instant Hotspot and the re-introduction of the Camera Roll. The iOS 8.1 firmware also fixed several bugs, including ones related to Wi-Fi connections, Bluetooth and screen rotation, MacRumors reported.
Following the release of iOS 8, the new software caused apps made by Facebook, Dropbox and other companies to crash more frequently than they used to on the older version of the operating system. Apple had tried to address these issues with the iOS 8.0.1, but the company had to pull it back because of several bugs in the update.
The company then rolled out iOS 8.0.2 on Sept. 25, addressing issues with cellular connectivity and the Touch ID fingerprint scanner that many iPhone 6 and iPhone 6 Plus users encountered after updating their devices to iOS 8.0.1.
© Copyright IBTimes 2023. All rights reserved.