Apple iPad Mini 2 Release Date Rumors: Analyst Says Two Retina iPad Mini Models Coming; One In Q3, Another In Early 2014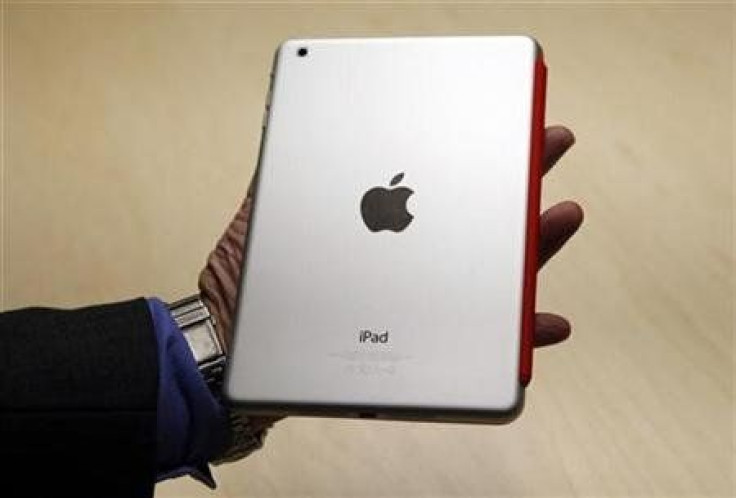 The iPad mini, launched last October, turned out to be a success story for Apple, with reviewers praising the device's size, design and availability of applications. However, the device had to deal with some criticism due its lack of expandable storage and Retina display.
Now, if an industry analyst is to be believed, Apple is going to refresh the mini version of its popular tablet lineup by releasing the second-generation of the iPad mini, aka the iPad mini 2, with a Retina display.
NPD DisplaySearch analyst Richard Shim has told CNET that the Cupertino, Calif.-based tech giant would release a Retina display-toting iPad mini in the third quarter of this year. In addition, the analyst also believes that the company is already working on the third-generation iPad mini that could debut in the first quarter of 2014.
"We see two refreshes coming," CNET quoted Shim as saying. "One in the second-half of this year, then one in Q1 of 2014. The Q1 device will have a Retina display plus an updated processor."
In addition to the Retina display, Apple is rumored to include a high-resolution LCD panel in the upcoming iteration of the 7.9-inch iPad, something that would bring it in line with the company's latest iOS device offerings, Apple Insider reported.
Shim also stated that Apple could use the iPhone 5's Low-Temperature Polysilicon (LTPS) display in the upcoming iPad mini. However, according to Shim, yield rates for such panels have become increasingly thin when screen size is increased.
"Another concern is the viability of releasing a follow-up iPad mini at a price point comparable, or equal to, the current generation," said the report. "Mass production would undoubtedly affect parts costs for Apple, which has traditionally tagged refreshed products at the same cost as outgoing models."
In April, KGI Securities analyst Ming-Chi Kuo suggested something similar when he said that the iPad mini 2 could be launched later than expected as the device's 7.9-inch high-resolution Retina display panels and thin design were creating problems in the manufacturing process.
© Copyright IBTimes 2023. All rights reserved.
FOLLOW MORE IBT NEWS ON THE BELOW CHANNELS