Apple IPhone 5 Battery Rumors: Will The New iPhone Be Unable To Hold A Charge?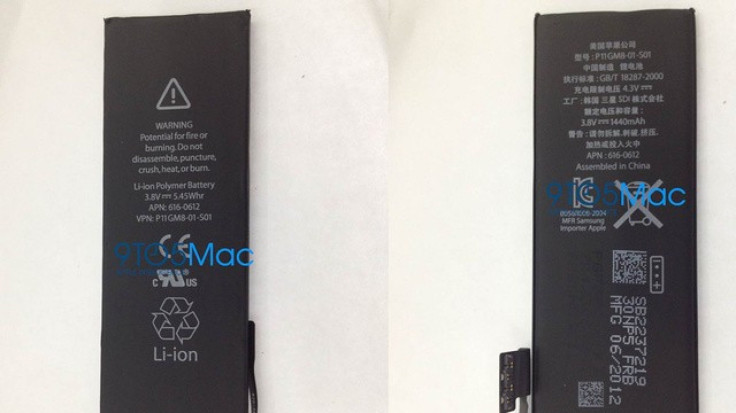 With the Apple iPhone 5 release date reportedly looming on the horizon, information about the coming phone has been leaking everywhere. Now, new photos are allegedly showing the iPhone 5's battery, but could its comparatively small size cause big problems for Apple?
According to 9to5Mac, a "reliable parts source" has snapped a few photos of what appears to be the anticipated iPhone's battery.
This new battery represents a small step up from other iPhone models, with a capacity of 1440 milliamphere-hours, or mAh. By comparison, the iPhone 4S battery has a capacity of 1430 mAh, while the iPhone 4 clocks in at 1420 mAh.
So, if these pictures can be believed, it's an improvement on previous generations, but not by much. And Apple is notorious for the short battery life on its iPhone.
Comparing this new battery with other phones on the marke doesn't make it look so impressive. The Droid Razr Maxx boasts a battery with a capacity of 3300 mAh, staggeringly more than that of the alleged new iPhone's. This is on the high end of the scale, but it's not uncommon to find many smartphones with more battery capacity than the iPhone. For instance, the current model of the Samsung Epic 4G has a capacity of 1800 mAh.
So what does this new battery mean? A ton of possible problems for Apple.
According to 9to5Mac, "[T]his new iPhone's battery has long been deemed significant due to the rumors of LTE network connectivity. LTE, infamously, requires bigger batteries because of the power that the faster network takes. However, it seems like the jump in battery capacity from the previous iPhones to this new iPhone is not all that huge."
If the rumors about both the iPhone 5's battery and its LTE connection are true, then Apple's latest smartphone could very well have one of the shortest battery lives on the market. LTE is well-known for eating up a ton of battery life, and the iPhone 5 might not have the strength to handle it. This is bad news for a phone that already struggles to hold a charge through one full day of use.
Of course, it's possible that Apple has redesigned the iPhone to be much more efficient this generation. And it could very well be that Apple won't be bringing aboard LTE connectivity. Or maybe this isn't even its battery. But if the rumors are true, then expect to carry a charger around everywhere.
© Copyright IBTimes 2023. All rights reserved.