Apple iPhone Turns 8: How Steve Jobs' Smartphone Changed The World In Less Than A Decade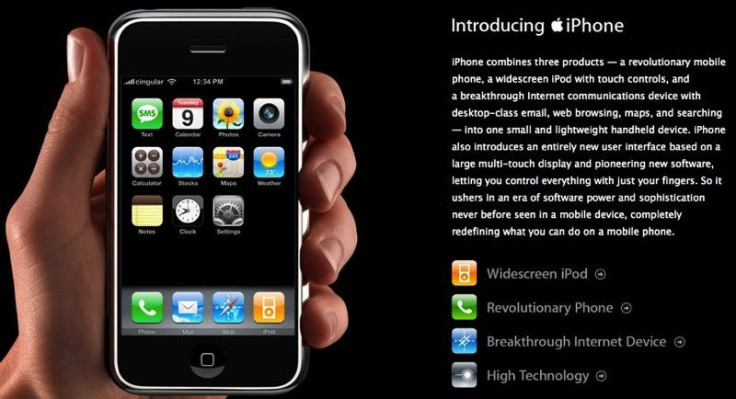 On this day in 2007, the first iPhone went on sale in the United States. Eight years later, Apple's device has revolutionized the mobile industry, brought the smartphone into the mainstream and transformed app development from a small niche into a major industry.
At launch, the iPhone was available in 4GB or 8GB sizes, priced at $499 and $599 respectively on a two-year contract with AT&T. Today, the iPhone 6 comes in two screen sizes, three memory options, three color choices and is available either contract-free or on a two-year plan from three providers.
The first iPhone was hotly anticipated. Steve Jobs announced the device six months in advance on January 9. Apple emailed customers, teasing the phone with the tagline "talk to you soon." The company launched a teaser ad during the Oscars, with actors throughout history answering the phone before ending on a shot of the gadget that would change the world. Six out of ten Americans surveyed knew the iPhone launch was coming.
The first iPhone was a very different beast from today's model. It had no apps, but users could pin "web apps" to their home screen. It couldn't record video, had no MMS, lacked a flash, and thanks to a recessed headphone jack only worked with a small amount of headphones.
By July 3, more than half of Apple's stores had sold out of iPhones. The reviews were in: some saw it as the future, others saw the lack of buttons and limited functionality as dealbreakers, and one reviewer said readers may be better off waiting for the "iPhone Nano," which never came. But what all of them had in common was the wonder at how different the phone was from what had come before: virtual buttons, no stylus, a pinch-to-zoom gesture, and all in a phone "thinner than even the trend-setting Motorola Razr," according to CNN's Kent German and Donald Bell.
Today, the iPhone is one of the world's most successful product lines, representing 38.8 percent of U.S. smartphone market share. The company is seeing huge growth in China, adding 9.7 percent market share over a two-month period to hit 27.6 percent. And in Q2 2015, Apple sold 61.2 million iPhones. The iPhone has set the world alight, and over the past eight years has shifted from expensive curiosity to an icon of modern living.
Graphics Provided by specout.com
© Copyright IBTimes 2023. All rights reserved.