Apple iPhones 300% More Reliable In Comparison To Samsung Smartphones, Motorola Handsets Rate Least Dependable [Study]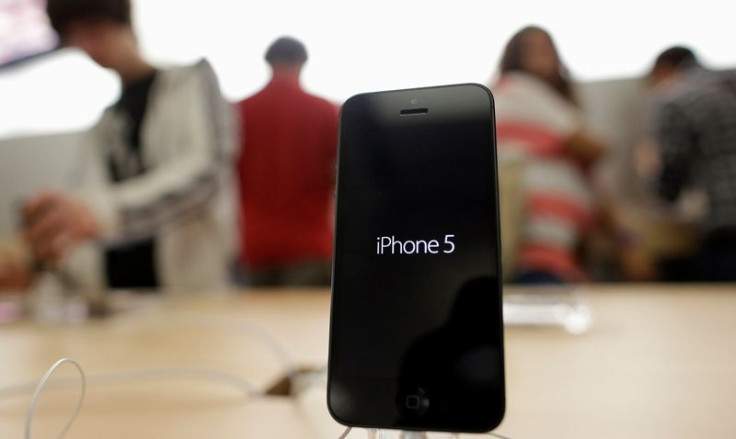 Just over a couple of days back, a new survey report crowned Apple's (NASDAQ: AAPL) iPhone 5 and iPhone 4S as the best-selling smartphones in the world, beating arch rival Samsung Galaxy S3. Now, a new study has reported that iPhones are not just the most popular handsets among consumers, they are also the most reliable ones available in the market.
According to a new smartphone reliability study, conducted by the community-based trouble-shooting website FixYa, Apple iPhones are the most reliable handsets with a score of 3.47, which is almost 300 percent better than Samsung (KSE: 005930) smartphones with a score of 1.21.
FixYa's Smartphone Reliability Report (via BGR) uses information based on almost a million troubleshooting requests posted by consumers through its product Q&A site and iOS mobile app. The study analyzed data from as many as 722,558 combined problem impressions, which was paired with manufacturer market share data from StatCounter. Later, FixYa assigned a reliability score to each leading smartphone vendor.
The fewer problem impressions the company had relative to their market share, the higher the score. Here's how the companies fared: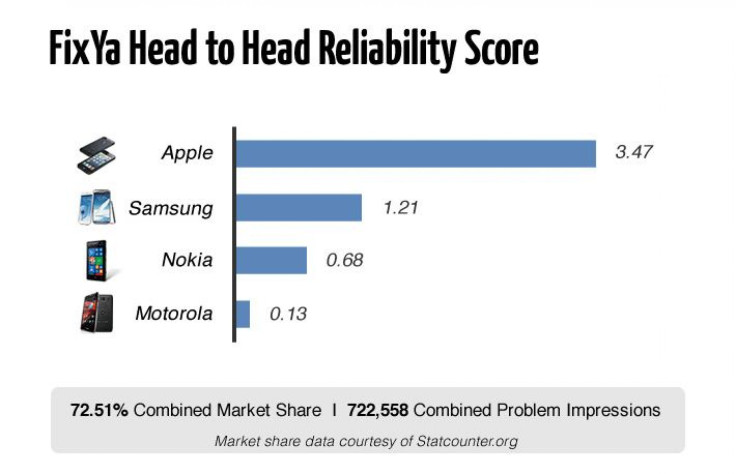 In terms of iPhones, the top three reported issues by FixYa users were "Battery life", "Lack of new features" and "No Customizability." However, as BGR pointed out, it's hard to understand "what bearing 'Lack of New Features' or the third most common complaint, 'No Customizability,' have on reliability."
Here's what the study said about iPhones:
With a reliability score almost three times higher than second-placed Samsung, Apple dominates the reliability test with the fewest number of problem impressions relative to market share. Even with complaints of battery life, users can't get enough of the dead simple user interface, even if it is less customizable.
When it comes to Samsung smartphones, users mostly complained about microphone and speaker issues, while battery life related issues were the third on the list.
Below is the observation the study made on Samsung handsets:
Samsung, with the second highest FixYa Reliability Score, has users loving the overall screen quality and enjoyable user interface across their products. Still, microphone and speaker issues remain a big problem, seeing as how smartphones are foremost meant to make and receive phone calls.
In case of Nokia smartphones, users mostly complained about "Laggy Responses" and "Poor App Ecosystem", while Motorola handset users complained about "Preinstalled Apps" and "Touchscreen Issues" among their top complaints.
Here're the statements made on Nokia and Motorola smartphones respectively:
- Nokia smartphones, with the 3rd lowest FixYa Reliability Score, tend to have much slower load times than other smartphones – and have a lacking app ecosystem with Windows Phone (although it is growing quickly). Nokia's one saving grace seems to be the Lumia, which has seen strong sales and boasts a super durable screen and outer shell.
- With the lowest reliability score of all four manufacturers and also the lowest market share, Motorola smartphone users have constantly been let down by an overwhelming number of problems (a total of 136,436 problem impressions on FixYa), whether it's touchscreen issues, speaker and camera quality, or the fact that Motorola devices come with preinstalled bloatware that cannot be removed.
"Smartphones are consistently being compared on a case by case basis, but no one has looked at the overall trends across a manufacturers' entire smartphone line," FixYa CEO and founder Yaniv Bensadon said. "Our newest FixYa report looks at lines like the iPhone, Galaxy, or Lumia, and through a careful analysis of issues versus market share, we've been able to directly compare manufacturers using a reliability score. The result is an accurate and fair method of scaled approach to fairly compare these top companies to truly see who is the most reliable, and who is barely even competing."
Click here for more information.
© Copyright IBTimes 2023. All rights reserved.