Apple Market Cap Crosses $500 Billion: Can Tech Giant Break $604 Billion Record set by Microsoft?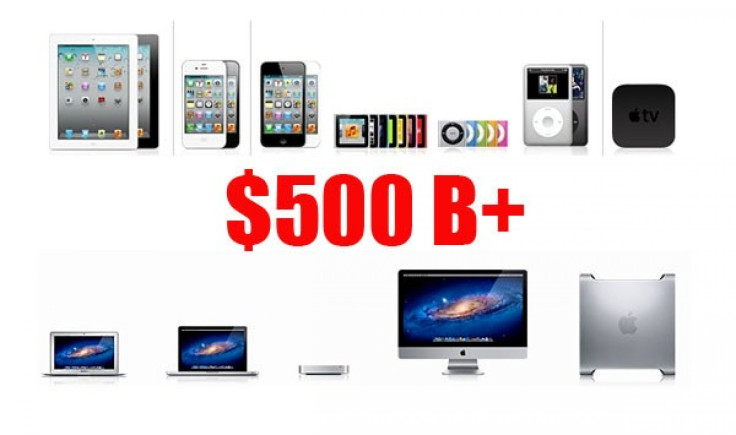 Tech giant Apple has bypassed $500 billion market cap on February 29, becoming the sixth company in the world to do so. This is another record set by the world's most valuable company, which has a distinction of releasing products that have grown to set benchmarks in their market segments.
Apple's market cap is now $506 billion and price of single Apple share is $542.
Microsoft was the first company to cross $500 billion level (the software giant was valued at $604 billion in Dec. 1999). However, Bill Gates' company is now valued at $267 billion only. Exxon is currently at the second spot with $441 billion market cap (the energy giant's market cap peaked at $513 in July 2009).
The other three companies to ever cross the $500 billion mark are Cisco, Intel and Generic Electric. However, these three companies' market caps are not even half of Apple's now. These companies peaked in 2000. Presently, Cisco is valued at $109 billion, GE at $203 billion and Intel is worth $136 billion.
Apple stock is at an all-time high, thanks to the March 7 media invite it sent out on Tuesday. After the release of the upcoming tablet, Apple's market cap will shoot up more, especially if iPad 3 boasts of the features Apple fans are anticipating. Many people are expecting Apple to cross the ultimate record of $604 billion set by Microsoft in December 1999 (during the dotcom boom).
Only a few companies have attained the historic record of $500 billion and none of them have remained above the half-trillion mark for long. The point to consider here is - how long can Apple remain above $500 billion?
With the iPad 3 lined up, industry analysts say market gods will be in favor of the tech giant. The March 7 event invitation has played an important role in making Apple's market value soar. The iPad 3 will certainly help bump up Apple's market cap higher and the new iPhone (dubbed iPhone 5), which is also expected to be unveiled in Q3 2012, will help push the tech giant's market cap even higher. Those who bought Apple shares in 2007 or earlier, must be grinning now. The tech giant has made many of them millionaires. And, possibly a few of them, billionaires.
(Reported by Johnny Wills, Edited by Surojit Chatterjee)
© Copyright IBTimes 2023. All rights reserved.